The World Bank Group Corporate Scorecard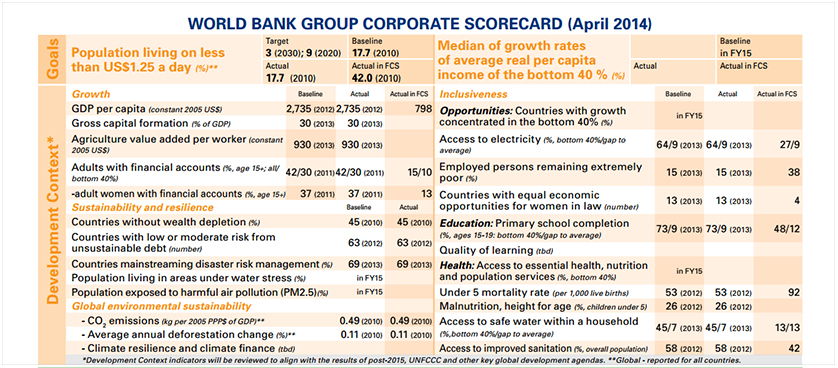 At the end of 2013, the World Bank Group adopted a new strategy, aiming at ending extreme poverty and promoting shared prosperity. To monitor the translation of its strategy into practice, the international institution has developed a Corporate Scorecard. It aggregates the contributions of all institutions that form the World Bank Group: the World Bank (WB), the International Finance Corporation (IFC) and the Multilateral Investment Guarantee Agency (MIGA).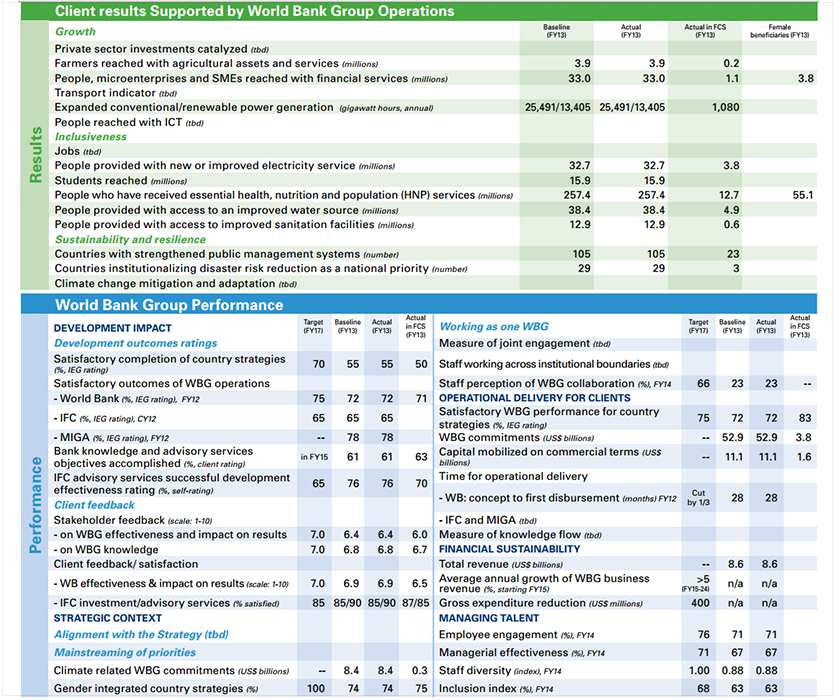 The Scorecard is structured in three parts:
The Goals and Development Context section offers an overview of the progress towards meeting the development challenges that the World Bank Group client countries face;
The Results field is aimed at providing an overview of the results achieved by World Bank Group clients, who were offered support for reaching their goals;
The Performance part refers to the World Bank Group's performance in implementing its strategy. It aggregates Key Performance Indicators (KPIs) important for the Group as a whole, as well as KPIs considered relevant for at least two of the three World Bank Group institutions. However, each institution has an individual scorecard, which provides data about how it contributes to the Group-wide measures.
The choice for these three sections of the scorecard emphasizes an inter-causal relationship: monitoring performance at an aggregate level shows how well the World Bank Group implements its strategy (part III), in order to support its clients in achieving results (section II), in the context of global development progress (part I).
The scorecard is completed by definitions of each of the indicators it comprises, thus being a transparent and useful tool for monitoring performance. Its role is to align KPIs and incentives, moving a step further from its past usage, when the scorecard was mostly used as a communication and accountability tool for the Bank's board of directors.
As Mariam Sherman, director for results, openness and effectiveness at the World Bank stated for Devex, "We don't want to be counting things for the sake of counting it, we want to be counting it because it's driving the right incentives and behaviors".
References:
Image source: