The Misery Index – Measuring poverty around the world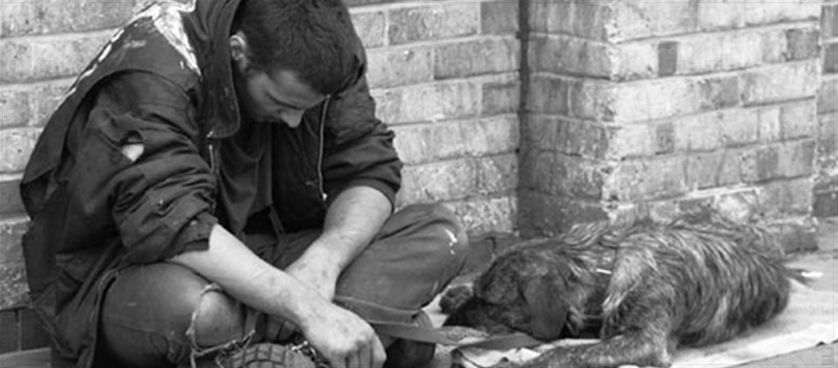 The misery index is an economic indicator that is calculated by adding the inflation rate to the unemployment rate. The rationale behind this calculus is that a higher rate of unemployment and a worsening of inflation mean economic and social costs for a country and imply a deterioration in economic performance.
The index was initiated by economist Arthur Okun, an adviser to President Lyndon Johnson in the 1960's. Harvard Professor Robert Barro amended the misery index by also including the 30-year government bond yield and the output gap for real GDP. Barro used his index to measure the change in misery during a president's term. He developed the updated Misery Index in 1999 and, approximately ten years later, Steve Hanke expanded Barro's work by applying it to other countries outside the U.S.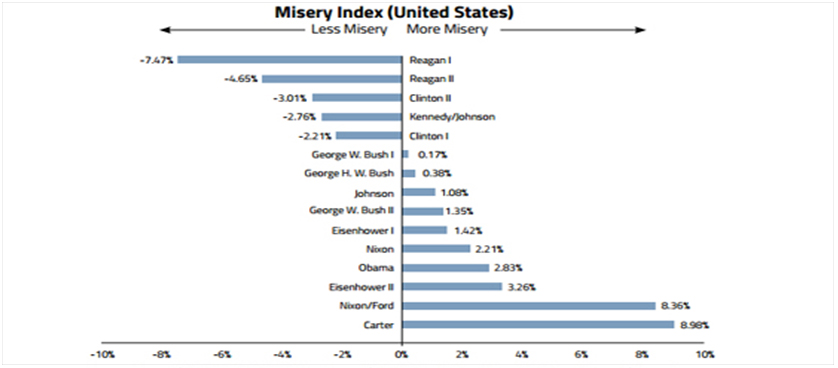 For the United States of America, the Reagan and Clinton administrations seem to have been the most favorable times, as measured via the misery index, especially due to the financial and fiscal reforms. On the other hand, USA's highest percent of misery was documented during the Carter administration, followed by Nixon/Ford, Eisenhower II and Obama.
Worldwide, the highest misery score is in Venezuela, followed by Iran and Serbia, while the lowest ones are Japan, Taiwan and Singapore. Regarding Venezuela, its inflation rate of 56.2%, which brought it in the top spot of the misery index, is supposedly five times higher than estimated, and roughly around 278% . If this annual implied inflation rate was used to calculate Venezuela's misery index, the index would jump from 79. 4 to 301, indicating that Venezuela is in much worse shape than suggested by the official data. Another significant problem in Venezuela, indicated by the report, is basic product shortage.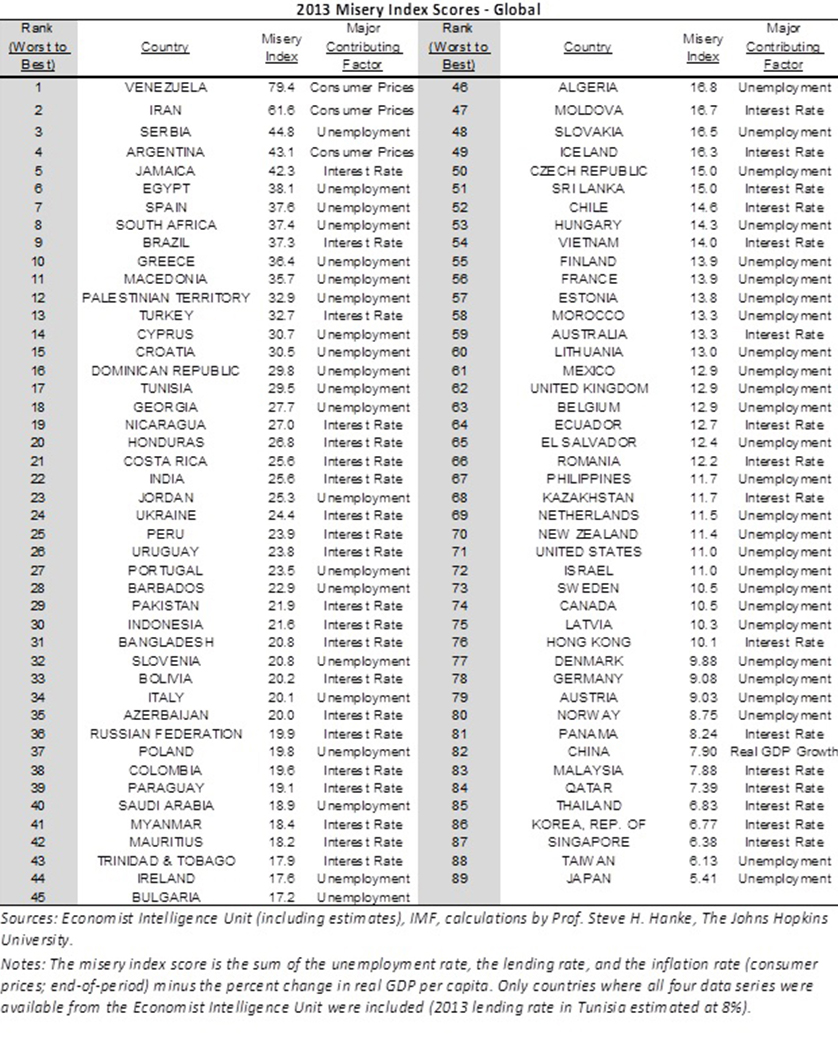 Analyzing the misery index, it is obvious that the most common problem worldwide is high unemployment, present in more than a half of the countries evaluated for the index.
Criticism has also appeared on the two components of the Misery Index. A 2001 paper looking at large-scale surveys in Europe and the United States concluded that unemployment has a heavier influences for unhappiness than inflation. This implies that the basic misery index underweights the unhappiness attributable to the unemployment rate.
However, the quality of life is a very important indicator, and it is directly influenced by inflation rates, unemployment rates, lending rates and GDP per capita, so measures need to be taken in order to address all these dimensions.
References:
Image Source:
Tags: Economic performance, Inflation, Misery Index, Performance in USA, Performance in Venezuela, Unemployment