Strategic planning in facility management – IFMA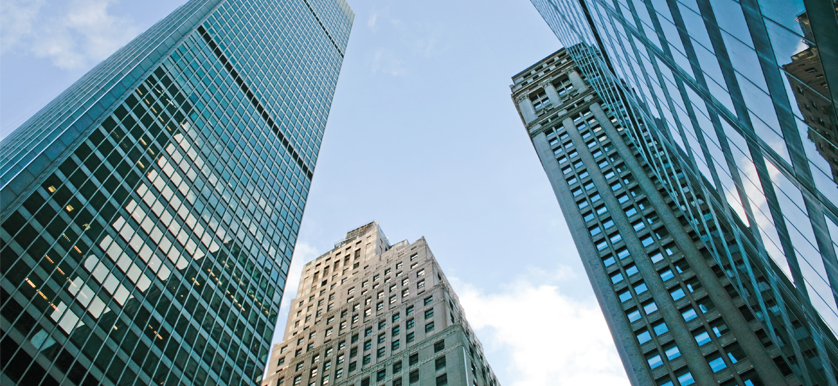 The International Facility Management Association (IFMA) has beed operating since 1980 and it is currently present in 94 countries, where it provides educational programs and conferences. IFMA also conducts research programs to strengthen the knowledge and skills of facility management professionals.
Managing such a complex business requires a good strategy which relies on well designed instruments to communicate and track the strategy implementation. In order to support its strategic plan, IFMA has developed the following tools:
Strategy Map;
Balanced Scorecard;
Portfolio of Initiatives.
PERFORMANCE Magazine offers a comprehensive analysis of the tools developed by IFMA, starting with the Strategy Map. The other tools shall be extensively analyzed within two future articles.
1. A good strategy starts with a well designed Strategy Map
One of the most popular management methodologies is the Balanced Scorecard (BSC) system, made widely popular by Norton and Kaplan in the early '90s. What was different about this concept was its holistic approach towards measuring and managing performance, which includes more than a company's outcomes, like profits and turnover. To achieve the financial objectives, which most stakeholders are interested in, if we refer to for-profit organizations, managers must look at how satisfied customers are, how well internal processes are functioning and nevertheless how prepared the human capital is in order to support the business operations.
This 360 degrees approach was an innovative idea in the 90s and it is still popular today, given its practical applicability. Financial KPIs are just the tip of the iceberg and, to effectively manage the business, managers must understand what happens with other stakeholders as well. For this reason, even strategy maps are built considering the 4 perspectives: Financial, Customer, Internal Processes and People, Learning and Growth.
In practice, perspectives' names are adapted, as we can see in the IFMA example, but they maintain the BSC approach.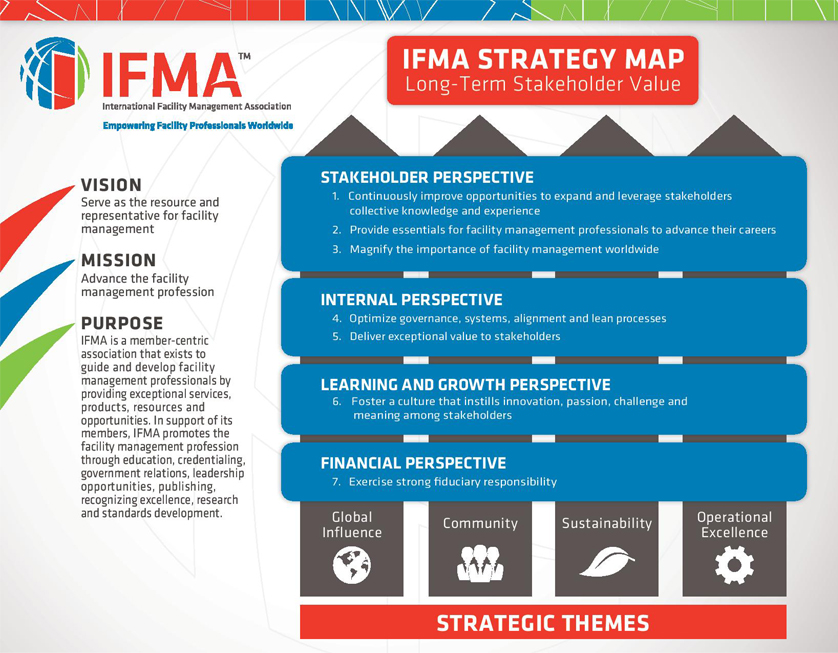 To identify what needs to be done in each area, clear objectives are established. Within the IFMA strategy map, objectives are expressed using verbs such as: improve, provide, magnify, optimize, deliver, foster, exercise.
The strategy seems to be customer oriented, as most of the strategic objectives are clustered in the stakeholder perspective. The main focus is to assess how value is created for customers through leveraging the knowledge and experience of professionals and promoting facility manangement at international level.
Regarding internal processes, value is delivered by optimizing processes, systems and governance. By providing better internal services, the focus revolves around building a performance culture that promotes innovation, passion, challenge and meaning. The main financial objective is to ensure a strong fiduciary responsability.
All these objectives are further clustered in strategic themes that reflect the main directions that must be followed internally in order to ensure the achievement of strategic outcomes. IFMA's strategic themes are:
Global influence – international initiatives that must be governed through cost-benefit analysis;
Community – a group where professionals can exchange ideas, experiences and increase the level of knowledge, not only for individuals, but also for the profession itself;
Sustainability – environmental stewardship;
Operational Excellence – the integration of individual, departmental and organizational activities in one system that shares the same objectives of providing exceptional services, products, resources and opportunities for facility management professionals.
The strategy map also presents organizational identity elements such as vision, mission and purpose. Usually, next to their vision and mission, organizations place corporate values. They indicate the principles that guide decisions and organizational behavior. In this case, it is quite difficult to find the difference between mission and vision, whereas the purpose stands more as a mission illustrating what the company does. Stewardship
IFMA's core values are:
Collaboration;
Communication;
Conscientiousness;
Excellence;
Innovation;
Integrity;
Knowledge Sharing;
Leadership;
Professional Development;
Recognition;
Stewardship.
Each of them is accompanied by a description. However, given their number, although clearly explained they are hard to retain by the public. For a better impact in the customers', and even employees' or other stakeholders' minds, it is recommended not to have more than 5 corporate values.
IFMA's strategic plan was developed with the purpose of providing clear directions for stakeholders and ensure the entire organization acts like a whole. Given these considerations, the achievement of objectives is monitored through KPIs with clear targets and every initiative taken is connected to the strategic objectives presented above.
---
If you are interested in assessing your company's strategic planning maturity level, we highly encourage you to use our free tool for strategic planning audit.
References:
Image source: