State of the Global Workplace – Only 13% of the employees are engaged at work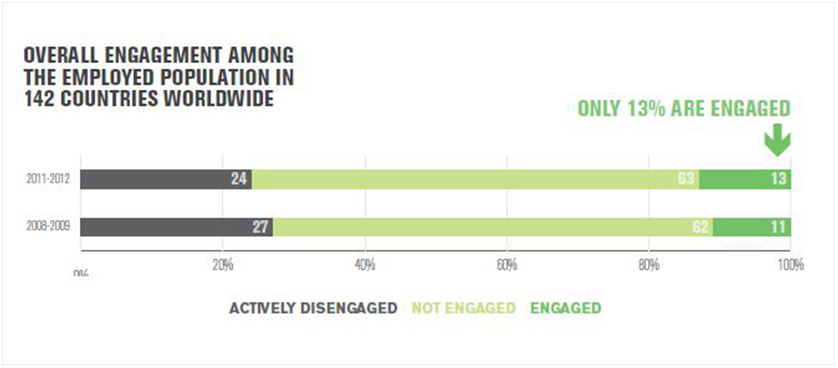 According to the Gallup research study "State of the Global Workplace: Employee Engagement Insights for Business Leaders Worldwide" (2013), only 13% of the employees are engaged at work and focused on creating value for their organizations, while 63% are not engaged and 24% are actively disengaged.
According to the "State of the Global Workplace" report, the three categories of employees above mentioned are characterized by:
Engaged employees work with passion, they are profoundly connected to their companies and drive innovation;
Not Engaged employees only invest time in their work, but no energy or passion;
Actively Disengaged employees are unhappy with their workplace.
The instrument that Gallup uses to measure employee engagement is Q12 survey, a questionnaire that assesses 12 performance related factors. For an extensive analysis on Q12, access the article Measuring employee engagement with 12 questions – Gallup.
One of the study's main findings is that employee engagement varies greatly by regions and countries. The surveyed regions are: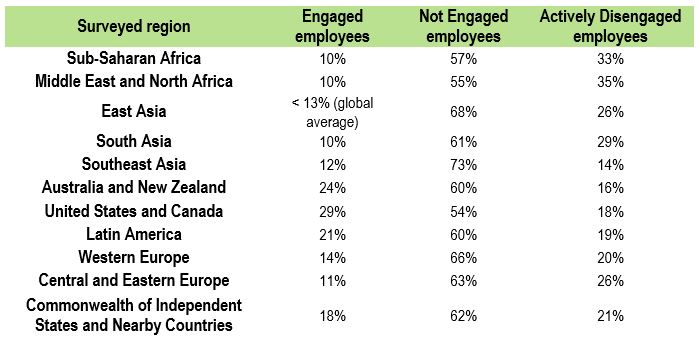 Worldwide, the highest ratio of engaged employees from the 142 surveyed countries is in Panama (37%), followed by Costa Rica (33%), United States of America (30%), Philippines (29%) and Qatar (28%). Syria has the lowest ratio of engaged employees (0%), followed by Croatia (3%), Israel and Tunisia (5%), China and Iraq (6%).
With a worldwide ratio of engaged employees of 13%, there is a strong need to nurture highly engaging environments all over the globe. The Gallup Business Journal proposes five ways to improve employee engagement:
1. Use the right employee engagement surveys: they have to be specific, relevant and actionable;
2. Focus on engagement at the local and organizational levels: the leaders must make the first changes in the workgroup, by working with employees to find engagement barriers;
3. Select the right managers: they have to empower people, recognize their value and contribution;
4. Coach managers and hold them accountable for their employees' engagement: managers should build engagement plans with their employees;
5. Define engagement goals in realistic, everyday terms: engagement goals must become meaningful to employees' day-to-day experiences.
As the Gallup research has emphasized, measures must be taken, as active disengagement is a huge drain on economies, while the companies that have managed to successfully engage their customers and their employees experienced a 240% boost in performance-related business outcomes.
Sources:
Image source: