How did Spotify become the number one music streaming provider?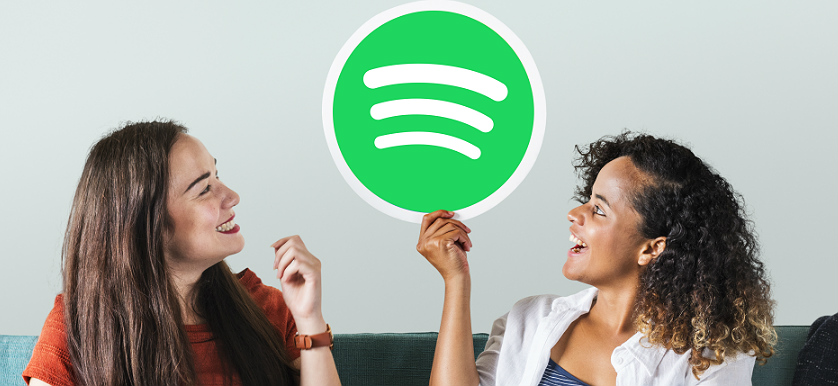 The number one music streaming provider in the world was founded in 2006, by Daniel Ek and Martin Lorentzon, in Stockholm, Sweden. The platform was created as a response to the increasing piracy problems, like Piratebay.
Spotify – from rags, to riches
Spotify was eventually launched in 2008 and its first strategy was to offer a free service with advertisements included, however the founders had hoped that its users would choose for the option to pay a $10 fee per month, in order to receive an ad-free experience.
The platform suffered from negative cash flows in the first couple years and realized that you can never outcompete a website like Piratebay, if the service you offer is not better than piracy. So, how did Spotify beat piracy?
Well, Spotify hosts songs from all genres in one platform, from the newest releases, to old songs. In addition to this, in recent years, it has become more difficult to download music illegally, due to various legislation and several crackdowns.
Therefore, people would rather use one platform that is more efficient than choose to use unverified and illegal sources for downloading music.
However, with the fall of music piracy, heavyweight competitors started to appear, like Apple Music and SoundCloud Go. Apple, of course, always had iTunes, where you were able to pay for a song or an album, but they still had to play catch-up with Spotify, because you can't keep selling songs for $0.99 each, when there is the option to listen to almost every song on a platform for only $10 a month.
That's when they created Apple Music, where users have access to music streaming channels, in exchange for a monthly fee. Apple thus competes by offering exclusive deals with artists, whereby the newest songs and albums are released earlier, before they reach any other music platform.
When it comes to SoundCloud, this company differentiates itself by offering a platform where even free agent DJs can upload and share their work with other SoundCloud users.
As a result, it is clear to see that making it in this industry is tough, so here comes the question: How did Spotify become the number one music streaming provider?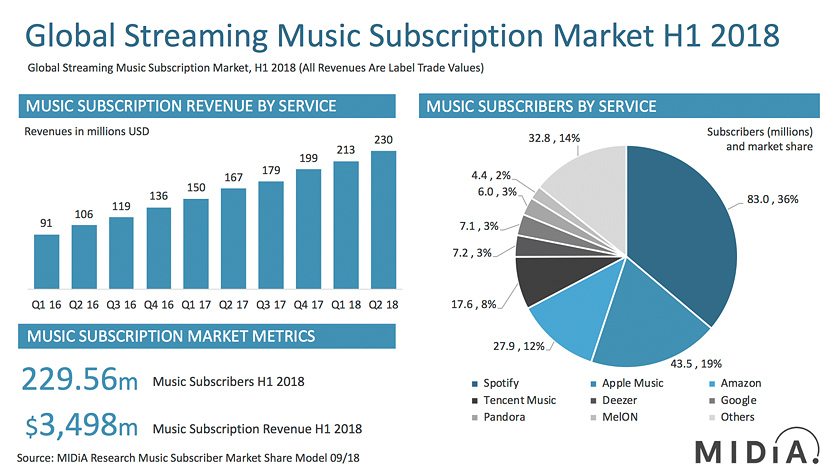 In this graph, it is plain to see that Spotify owns more than a third of the market and has more than 200 million subscribers, out of which 46.4% are premium members (paying customers), across 78 markets. They dominate the industry and the 3 biggest reasons are because of their market penetration, market development and cost-leadership strategies.
Market penetration
To strengthen its competitive position, Spotify is expanding its service availability to more countries and regions, but it also uses an intensive strategy where the aim is to create growth in the already existing markets, where the music platform is already operating.
Therefore, they create a competitive advantage both in existing markets and in new ones. When you take into account the growing numbers of subscribers, it also becomes very beneficial for the artists as well, because more and more of them are interested in making a deal with Spotify as they see the sub count go up.
This trickles down to everyday users, who are even more likely to become a subscriber, as the songs and albums of their favorite artists become readily available on the music platform as soon as possible.
Market development
Spotify also got into product development, which resulted in growth. They offer music-related services. For instance, by partnering up with Facebook in 2010, Spotify created options where you can send songs to your friends via Facebook or on Instagram (which is owned by Facebook).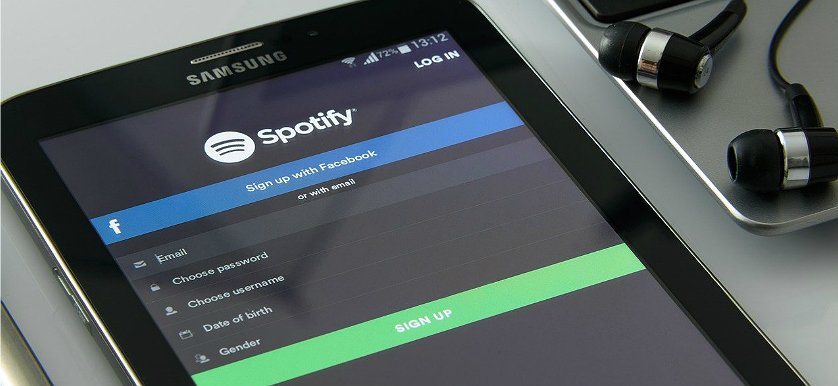 Moreover, you are now able to add any song from Spotify to your Instagram story, where your followers can see what you have been listening to.
With what seem like simple, small updates, Spotify is able to create a competitive advantage, offer something more to its users and promote its products at the same time. Spotify also offers a one-month free premium membership trial, to try to win over new customers that may be into services like Amazon Prime or Twitch Prime.
Cost-leadership strategy
Through its innovative strategy, Spotify tries to remain in a low-cost position in order to generate a strategic advantage, as well as a broader scope for strategic targeting. The strategic advantage here is represented by their low prices, which make the service attractive for international users.
Furthermore, a broad scope strategy is employed for the purpose of improving Spotify's network of online users. In short, the company tries to offer music from as many genres as possible, as quickly as each hit comes out. As mentioned above, the growing user base results in an attractive platform for fans, but also for artists. These intensive strategies result in the rapid growth of the music platform.
It is clear to see that given their various approaches, Spotify will most certainly be able to maintain its huge market share for the next couple years.
The music streaming industry is an industry that will continue to grow at significant rates, due to the increasing state-of-the-art facilities that each studio offers to any upcoming promising artist, in combination with the fact that people's taste for music has diversified tremendously over the years.
If Spotify keeps coming up with innovative ideas to create more brand awareness and satisfy its users, the future looks even brighter for today's biggest music streaming provider. However, they cannot rest on their laurels, as we have seen that a lot can change in a period of just a couple of years.
The music industry is incredibly dynamic, which means that the tables can turn unexpectedly. Spotify should expect its competitors to come up with better offers, lower prices or updated services and be ready to counter with their own developments.
Image sources: