Personal measurement tools – effective or just time consuming?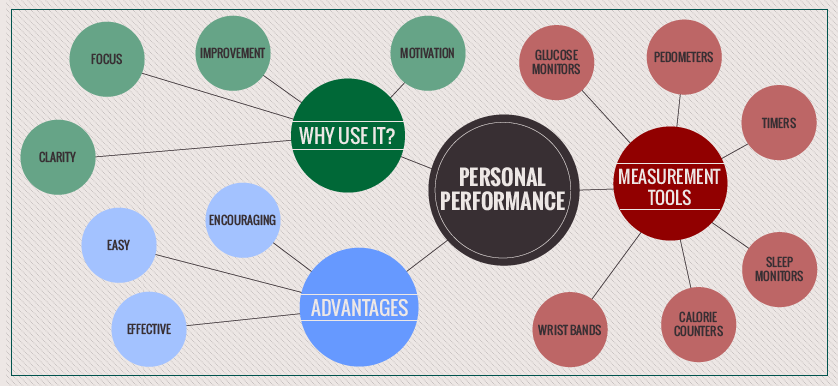 If you ever catch yourself saying "Measuring my performance is such a waste of time!", you're doing it wrong and it's high time we changed that perception. Even outside working hours, we deal with measurement tools that significantly, and subtly, improve the quality of our lives.
Cooking thermometers. Timers. Wrist bands. Sleep monitors. Pedometers. Calorie counters. Glucose monitors. Even the simple watches. All these make our daily lives and personal experiences easier, from cooking to training, from health to timing.
Imagine the evolution of measurement tools as a sandwich. It all started from the personal life, from measuring aspects such as time and temperature. In the last few decades, measurement has been embraced by more and more professionals, leading to what we generally acknowledge as performance management. As a consequence, we monitor performance results within companies at three levels: organizational, operational and individual. However, today, as a result of the fulminant evolution of different gadgets, a new value is offered to personal measurement tools. So, we're back to offering ourselves due and deserved attention.
You might ask yourself: Why use personal measurement tools? For the very same reason we've embraced the idea of measuring our professional performance: to gain clarity on our objectives, focus on what matters and improvement, through monitoring progress towards the desired state.
However, if thermometers, for example, are only used when suspecting high body temperature, other instruments should be used on a daily basis, not only when encountering a problem. In companies, an effective and well implemented performance management system should be the basis for improvement and not an SOS signal for low achievements. So why not apply the same principle in our daily lives? Should we be overweight to start using a calorie counter? Or involved in high performance sports to use a pedometer? Should we experience insomnia to start monitoring the efficiency of our night sleep? This is an out-of-date perspective, which needs immediate action.
Ultimately: is personal performance measurement a total waste of time and money? No. Effective, easy and encouraging? Yes. With the use of simple day-to-day measurement tools, we can change the way we live, eat, train, we can influence our health and even our mood, as they help us activate benefic habits and motivate us to stay on the right path.
Let's start boosting our personal performance! Why? To provide ourselves with focus and motivation.How? By tracking and measuring our daily activities. When? What about… today?
Adelina Chelniciuc. Publishing & Media Manager. The KPI Institute