GRUMA Mexico: A performance model built on innovation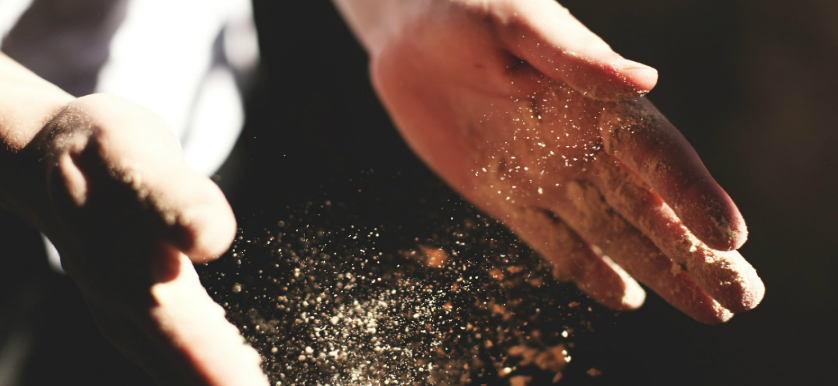 "My father taught me something invaluable…Research is the mother of development for a country, for a company and for people", Roberto González Barrera, Founder, GRUMA Mexico
Having understood the significance of Performance Management System implementation, the Mexican business environment is setting out to be increasingly attractive to analysts and investors worldwide. A world leader in corn flower and tortillas, GRUMA is a multinational company that has succeeded in conquering the world with its traditional Mexican products. Due to its unique two-way communication strategy with its stakeholders, the "Great place to work" management research and consultancy firm, awarded GRUMA "Best place to work at in Mexico" in both 2011 and 2013. Moreover, the "World Finance" magazine gratifies GRUMA with an award that recognizes the company's achievement of the highest levels of performance in its respective fields of operation.
The birth of the corn flower and tortilla colossus began with Roberto Gonzales Barrera who quit school to work in the groceries warehouses that his father had founded. In 1948, Don Roberto had his first encounter with corn flower. He bought a mill, and started processing corn flour, in a time in which cotton was the product ruling all markets. Having started as a family-owned enterprise, GRUMA is, nowadays, a multinational that operates in over 40 countries around the world, and tortilla is one of the leading products in Mexico.
So how does GRUMA do it? How has it managed to build on traditional values and grow into a role model for outstanding performance achievements? Well, first of all, GRUMA has a well-defined strategy with the main components of mission, vision and values standing at its core.
GRUMA Mission: "To contribute to the quality of life of our customers and consumers everywhere we operate, by offering high-quality products and services that fit their lifestyles, cultures, and needs, generating dynamic and profitable long-term growth to create the greatest value for our shareholders, focusing mainly on our core businesses: corn flour, tortillas, and flatbreads."
GRUMA Vision: "To be the absolute worldwide leader in the production, sale, and distribution of corn flour and tortillas, as well as one of the main producers of flatbreads and other related products in Mexico, the United States, Central America, Europe, Asia, and Oceania."
GRUMA Values: EFFORT, COMMITMENT, PERSEVERANCE, TRANSCENDENCE
Second of all, GRUMA Mexico is built on a clear-cut sustainability model meeting the needs of GRUMA's customers, shareholders, employees and of the community. In order to make sure that these needs are well-attended for, GRUMA executives developed a stakeholder communication framework that allows for the close monitoring of all parties: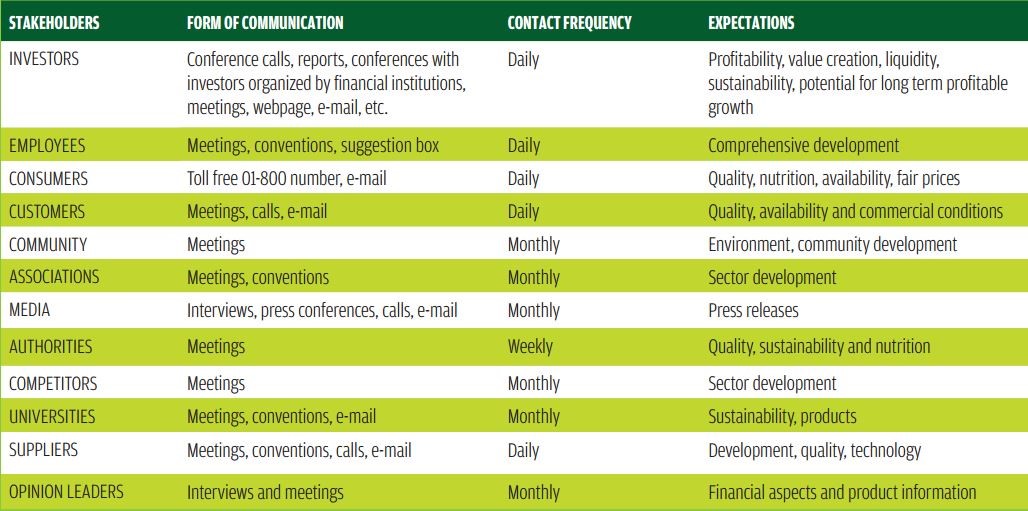 Innovation is a vital component of GRUMA Mexico's strategy for performance. Innovation is prevalent in production and engineering processes, as well as marketplace practices. The company's research and development department is currently designing a line of pizzas to complement GRUMA's product portfolio. Due to its deep understanding of worldwide markets, the Mexican company has become a lead innovator in country-personalized service models, products and packaging solutions:
In Mexico: GRUMA launched the MASECA Antojitos, with low grease absorption, for a healthier alterative to flavor and better quality.
In the United States: Due to the increasing demand for organic, gluten-free products, the company launched the Gluten Free Flour Tortilla and the Tortilla for a Healthy Digestion. Recognizing the growing trends in chips consumption within the United States, GRUMA is continuously exploring the potential for snack production expansion.
In Central America: GRUMA launched its Maseca Roasted Tamale with Coconut (Maseca Tamal Asado con Coco) in Costa Rica, and focused their efforts on improving the softness and flavor of TortiRica. In Honduras and Guatemala, BRUMA launched Maseca Tamale Ready Mix and packages were modernized to display the Gluten Free and No Preservatives.
In Europe: GRUMA is looking to expand its brand image by targeting new markets such as Russia and Spain. In England, they launched three new lines of wraps from the Mission Deli Super Soft brand: Wholemeal, Mini Original, and Mini Tomatoes.
In Asia and Oceania: GRUMA is focusing on innovative publicity strategies to consolidate its position on the market and increase customer loyalty. For example, in Singapore, GRUMA sponsored the Asian Basketball Championship and in Australia, the company launched a new Facebook page that presents GRUMA as the innovative, quality brand that it is.
Technological capacity is another significant dimension of GRUMA Mexico operations. It is not without purpose that the company regards technology as the main driver for both innovation and market position consolidation. At the same time, information technology is focused on supporting new initiatives in the communication with company stakeholders such as: social networking, on-line discount programs, increase in the company's fan base etc. In 2014, BRUMA also developed a new Mission webpage, www.missionmenus.com, with the goal of further connecting with their consumers through useful content such as recipes, nutrition tips, and news. Beyond generating higher loyalty to company brand, this website was presented with the silver award for having the best design among food and beverage websites.
Working environment quality of life within the BRUMA Mexico company is monitored through key performance indicators such as: # Employees, # Employees with collective bargaining agreement, % Employees per business unit, # Man-hours of training and $ Capital invested in training.
The GRUMA Mexico Company stands as an example of the Mexican business environment becoming more aware of the tools and techniques performance management diligently uses. Performance management terminology, such as strategy formulation, management by objective and economic value add, is no longer a challenge to most of the players in the Mexican business environment. Although undermined in many of the world's other business environments, innovation seems to be the core value driver for many of the Mexican top-performing companies. At the same time, there is an increased need for the refinement of individual performance evaluations at both employee and management level, as current appraisal models seem to lack consistency. In spite of the fact that a productive and efficient working environment is encouraged, the rewards and recognition programs are not always a part of human capital nurturing strategies. As much as there is a perceived affiliation with company-wide key performance indicators reflecting on the people dimension of the organization, there seem to be few systems that reflect on individual employee satisfaction and retention.
References:
Image source: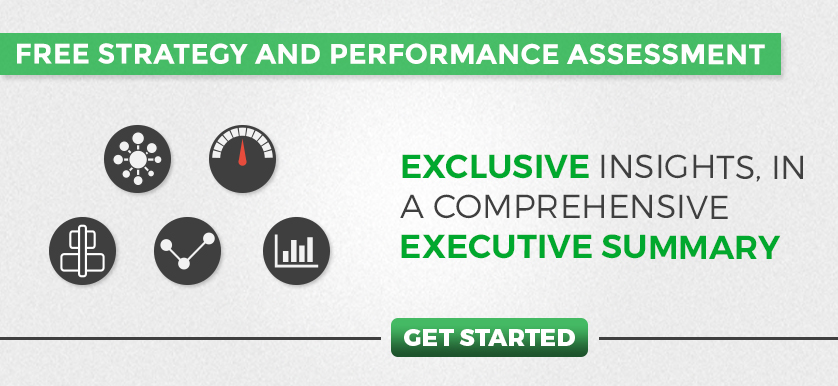 Tags: Innovation, Performance in Mexico, Performance Management Systems