Global House Price Index – 2010 Results and Trends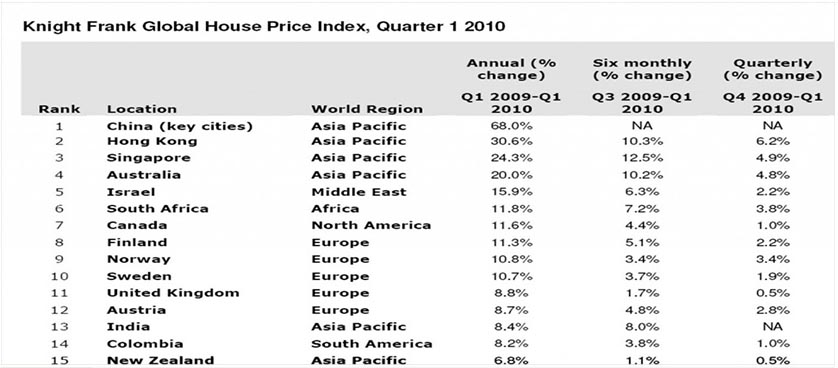 Knight Frank, a leading global property consultancy company, compiled official government statistics and central bank data from around the world, to generate a ranking based on the global house price index results in the first quarter of 2010.
The most noticeable trend in global house prices is the ease with which the performance of global housing markets can now be grouped by world region, the first four positions in the ranking being occupied by Asia Pacific locations, whilst Europe dominates the bottom half of the ranking.
The key highlights regarding the global house price index and its results are:
At the end of March 2010 (Q1), the results of the price index increased with 53%.
The top performers remain China, Hong Kong, Singapore and Australia all recording an annual growth in excess of 20%.
The Asia Pacific region registered the highest growth of 17.8% on average.
For the first time since Q4 2008, the annual price inflation for all global housing markets recorded a growth, of 1.6% in March 2010.
References:
Image Source:
Tags: Knight Frank