The cost of doing business in over 90 cities around the world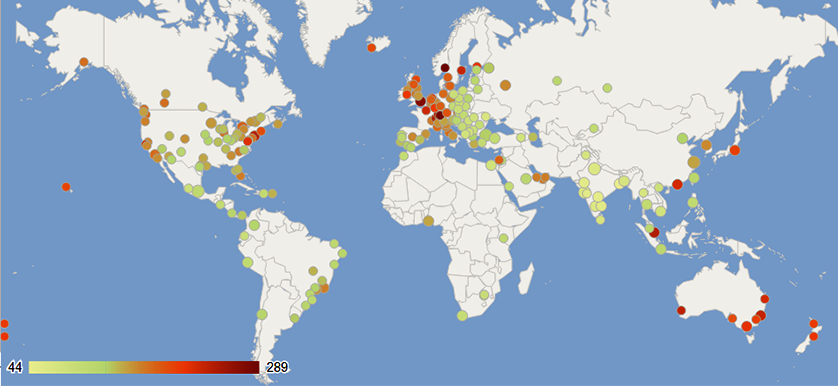 Starting a new business is hard when trying to achieve success, especially if you are planning to start in a new city. The final outcomes can be influenced by the business nature and its goals, the cost of living in the chosen city and the ease of doing business.
Weighing the decision requires a larger amount of information. In order to help entrepreneurs, 3 studies that may help in making a more accurate decision are presented below.
Real estate value
A research published by the Global Property Guide shows that Monaco is the most expensive city, followed by London, Hong Kong and Singapore. The study covers 94 countries and cities. To have an objective measure to compare one city to another, the data is clustered using the following KPIs:
Cost of living
Another study, published by Expatistan, showed that the top 3 most expensive cities are Oslo, Zurich and Geneva. The study takes into consideration 214 cities that were categorized hierarchically by Expatistan.
To calculate each city's cost of living index value, Expatistan started by assigning the value of 100 to a central reference city (that happened to be Prague). Once the reference point has been established, the Price Index value of every other city in the database was calculated by comparing their cost of living to the cost of living in Prague.
Ease of doing business
The World Bank published a benchmarking report that included all economies in June 2013 and ranked 189 countries according to the ease of doing business. The top 3 countries were Singapore, Hong Kong and New Zealand. The study is based on using 10 indicators, such as starting a business, paying taxes and registering property.
Starting a business is a cumbersome process in many cases, and a lack of information in making decisions can only make it more difficult. Other factors that can positively influence business outcomes, and which can be taken into consideration are: few business per capita, low annual salaries, high employee availability, long average workday, and high educated workforce.
Image source: