Employee of the Month: Georgiana Ene, Project Manager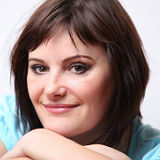 Join us in our journey of interviewing some of the most extraordinary individuals that continue to make The KPI Institute a role-model for others to follow. In today's edition, we will be featuring July's Employee of the Month, Georgiana Ene.
One fight at a time, fights will go on as long as they have to and if this is your first night at fight club, you have to fight. – Fight Club
1. What is your role at The KPI Institute and what makes it special?
At current, I manage the national events of the organization: workshops, conferences and the best is yet to come. It's interesting because I work with many kinds of people, which is always special.
2. How did it feel to be nominated and selected as Employee of the Month?
I didn't expect it but the feeling was nice. I really liked it.
3. What do you find most challenging at The KPI Institute?
In every company, one of the most difficult things to try and fully keep up with are the vision, mission and goals that its leadership hoists upon its banners. The KPI Institute is no different. As we strive for perfection, it oftentimes becomes a challenging task to follow through all of these.
4. What would be the three main career lessons that you have learnt thus far?
The best way to describe these would be with an example from the popular movie, Fight Club.
For those that have not yet seen it, the movie at one point describes to its audience a few rules: "one fight at a time, fights will go on as long as they have to and if this is your first night at fight club, you have to fight". These would sum up my lessons learnt so far quite well.
5. If you could interview one person, either from the past or present, who would it be and why?
I would not be able to choose between two people, so I'll have to nominate two here, as I share a great passion for both business and theatre.
Two years ago, I intended to invite John McAfee, one of the speakers in my CIO Conference. He was in Romania and I talked to him about it, but it didn't come to fruition because of his busy schedule at the conference's time. He is a very kind and smart business man. I am very curious to find out his opinion on bitcoin and what is his vision for the future. He'd be my business interviewee.
In regards to theatre, one of the people I would like to interview is a Canadian Theatre director, Robert Lepage. I had the chance to see one of his masterpieces this year, during the "Shakespeare Festival" in Craiova, "Needles and Opium".
Versatile in every form of theatre craft, Robert Lepage is equally talented as a director, playwright, actor and film director. His creative and original approach to theatre has won him international acclaim and shaken the dogma of classical stage direction to its foundations, especially through his use of new technologies.
Contemporary history is his source of inspiration, and his modern and unusual work transcends all boundaries.