Employee of the Month: Damaris Minea, Head of Logistics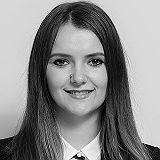 Join us in our journey of interviewing some of the most extraordinary individuals that continue to make The KPI Institute a role-model for others to follow. In today's edition, we will be featuring May's Employee of the Month, Damaris Minea.
A part of your success depends on the people you surround yourself with.
1. What is your role at The KPI Institute and what makes it special?
I'm responsible for the Logistic Department of The KPI Institute. Most of the times you'll find me organizing our company's training courses and events.
I find my role to be the most special because of its nature.
Every new day is a chance to discover the diversity of this world through the differences between us: differences of culture, language, personalities and nationalities and it really is amazing.
2. How did it feel to be nominated and selected as Employee of the Month?
It came as a wonderful surprise! It feels great to be part of such a supporting team. 😊
3. What do you find most challenging at The KPI Institute?
At times, all the differences mentioned above can be very challenging. Some people may not speak more than their national language or they simply have different work ethics.
However, I love the feeling you get when you finally get to a mutual agreement and all sides are happy.
4. What would be the three main career lessons that you have learnt thus far?
This place carries with it a big potential for personal growth, but I'll mention only a few below:
Good things come to those who diversify. If you stick to what you already know, you'll never learn anything new. Here, I've learned how to be flexible, agile and a know how to person for a big variety of situations.
Surround yourself with people who will motivate and push you to grow. A part of your success depends on the people you surround yourself with.
Together is always better. Each person brings value to the team in its own way. You can always achieve more together than alone.
5. If you could interview one person, either from the past or present, who would it be and why?
It would be Oskar Schindler, because he chose to save innocent lives contrary to his primary interests.