Colleges Ontario: KPIs for academic excellence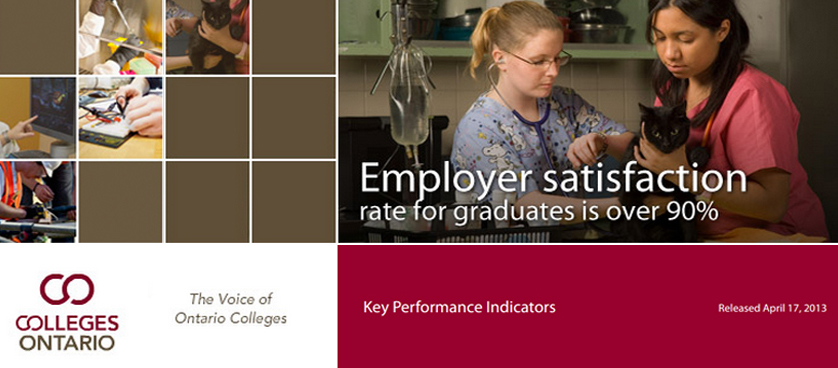 Colleges Ontario is a regional association which represents 24 of Ontario's higher education institutions, dedicated to applied arts and technology. It is committed to providing Ontario's colleges with a strategic direction and means for improvement in order to enable the region's growth and progress as an education and learning centre.
The main purpose of this association is to provide young people with a high quality learning experience that will translate into an able and qualified workforce, which will drive the Ontario region and Canada forward in today's competitive environment.
In order to keep track of their performance, and to be able to make decisions based on gathered information, Colleges Ontario releases a yearly report in which they publish results for 9 Key Performance Indicators (KPIs). The latest report, released in 2013, regarding the 2011-2012 reporting period reflects the association's accomplishments via measuring academic performance.
Looking at their results, we find that maybe the most important KPI that shows college performance in the context of the business environment, % Graduate employment rate achieved an impressing average level of 83.6%, even surpassing the 83% mark achieved last year.
In addition to % Graduate employment rate, Colleges Ontario also reports on % Graduate satisfaction rate, a crucial measure of student satisfaction with the academic institution. At a level of 80%, an improvement from the previous result of 78.9% it is safe to say that Colleges Ontario is performing in this aspect as well, and furthermore are on an increasing trend in terms of graduate satisfaction.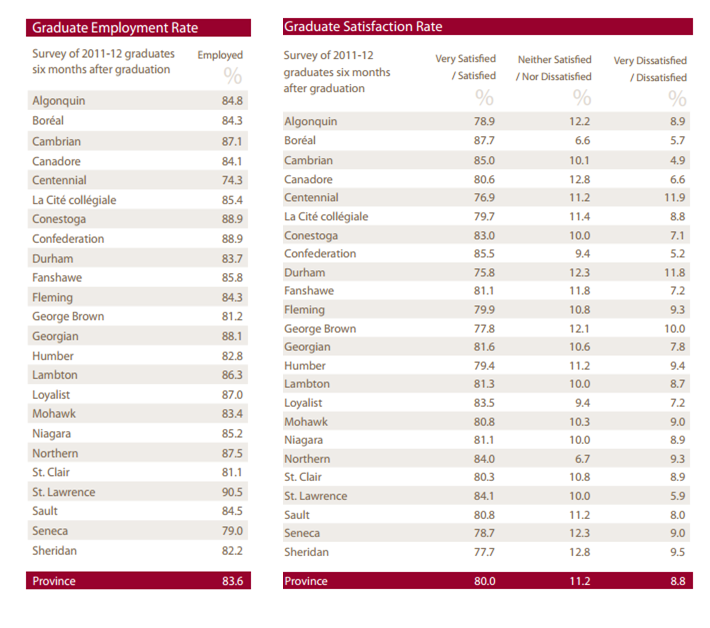 The importance of internal and external satisfaction regarding the services provided by Colleges Ontario is reflected in the emphasis placed on this subject through measuring employer and student satisfaction in addition to graduate satisfaction.
% Employer satisfaction rate achieved a level of 93.4% demonstrating the positive impact and influence that graduates from Ontario colleges bring to their employees. This KPI reflects the fact that the association is well on target in accomplishing their objective of producing a skilled workforce that will strengthen Ontario in terms of business competitiveness.
% Student satisfaction rate is measured by averaging results to four capstone questions addressed in their student satisfaction survey regarding: the quality of the learning experience, the usefulness of the skills and knowledge brought by the learning program, the overall quality of the college resources, and the overall quality of the services provided by the college. Standing at 77.1%, % Student satisfaction ratefurther reflects an impressive performance achieved within the 24 colleges. As recent studies outline the importance of stakeholder satisfaction in organizational performance, Colleges Ontario currently presents an extremely solid foundation that can lead to further improvements, with the right guidance.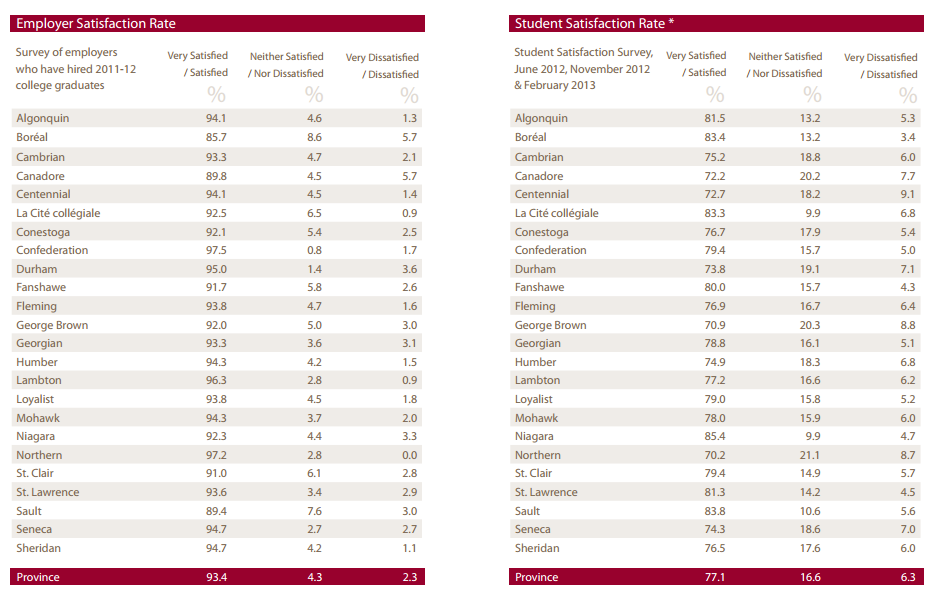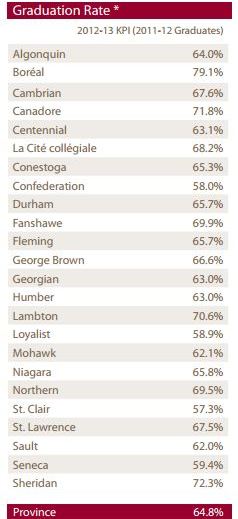 The last KPI in the report, % Graduation rate measures actual student performance in relation to academic established target. At a level of 64.8% it reflects that the majority of students graduate from Ontario colleges but, at the same time, that the established standards for graduation are adequately defined. Even though it may seem like an underachievement in relation to other KPI results, % Graduation rate should not achieve very high levels as that may directly impact the most relevant KPIs: % Graduate employment rate and % Employer satisfaction rate.

The impressive results published by Ontario Colleges reflect a cohesion in terms of planning and executing strategy, which have led to performance results that make the association a model for others in the academic education sector. Furthermore, the fact that all 24 colleges are public colleges demonstrates that public education is more than capable of providing a skilled workforce for any region or country.

References: Image source:

Tags: Education and Training performance, KPI, Performance in Canada