Alex Atzberger – Organizational Performance in Turbulent Environments, at the PMA 2014 Conference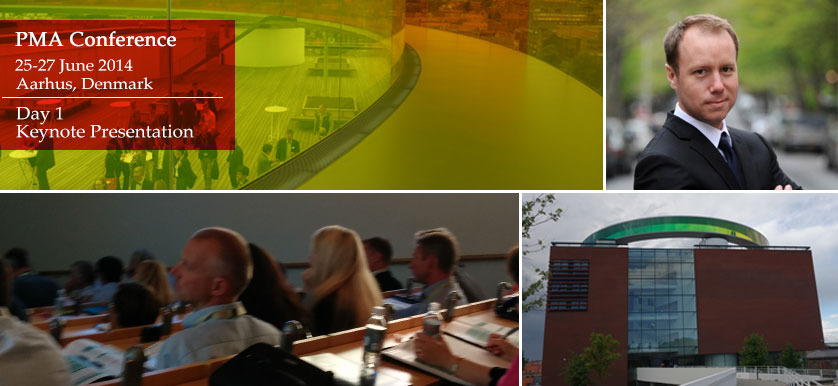 Day 1 of the 2014 PMA Conference ended with a special keynote presentation, delivered by Alex Atzberger, the Chief of Staff, Office of CEO at SAP. The presentation took place within a special setting, at the famous art restaurant, from within the ARoS museum, during the executive gala dinner. Dubbed "Organizational Performance in Turbulent environments: How Technology is Shaping the Future of Business and reshaping real-Time organizational Performance", this special presentation was attuned to the whole line of discussion brought on within the 1st day, and argued for the need of steering business more accurately and effectively.
In assent with the idea that today's turbulent world requires more agile, competent performance management systems, Alex Atzberger notes 2 important trends, namely:
The ability to track the present in real-time, in order to promptly predict the future;
Technology shaping and reshaping the future of business, and determining how performance is reported in real-time.
 As the SAP Chief of Staff points out, the business domain is currently a highly volatile environment, "turbulent" – to use what seemed to be a popular term throughout the day, marked by economic uncertainty, raising costs and considerable variations in consumer behavior.
Keeping consumers in mind, Alex Atzberger stressed the fact that businesses need to be steered with high accuracy, in order for them to deliver and tend to the market's needs and trends.
One of the examples he gave, about gaining a competitive edge through employing an effective measurement system and having the ability to act promptly on real-time data, is SAP's Match Insights, their collaborative project with the German Football Association, intended to enhance Germany's performance in the 2014 World Cup. He explained how this software solution enables the team to process a vast amount of data, gathered directly from the field, and assess performance constantly. Based on a series of KPIs, the software tracks and processes extensive data about the team, the opponent and the game as a whole.
He also mentioned how SAP Match Insights is intended to become a more user-friendly product, which can be used by both coaches and the players themselves, in order to get real-time data pertaining to performance. The implications, he stated, would be that the game can be analyzed and key decisions can be made in an ongoing match, which would lead to maximizing the team's performance.
Within this frame of thought, performance management is highlighted as being essential in the quest for business excellence, along with the technological infrastructure it implies.
Topics such as the current turbulent environment and the need for agility were addressed throughout the 25th of June, in keynotes such as Professor Andy Neely's presentation, or the presentation given by Bjarte Bogsnes,  Vice President for Performance Management Development at Statoil.