Workshop Presentation: Key Performance Indicators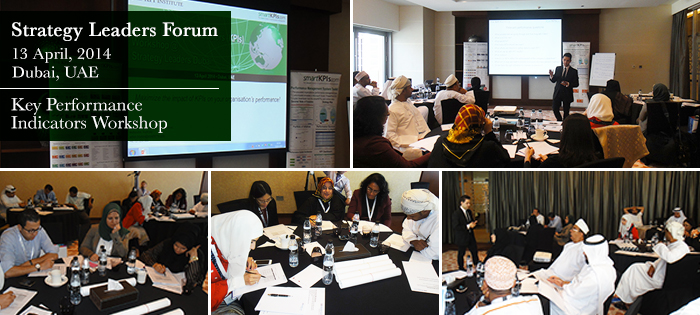 Adrian Brudan, Director of Research Programs at The KPI Institute, delivered a one day workshop as part of the Strategy Leaders Forum, which took place in Dubai, United Arab Emirates, on the 13th – 17th of April 2014.
As data based decision making is at the core of better management practices today, tools such as Key Performance Indicators and Key Risk Indicators assist with the provision of critical business data for decision making. This workshop explored the relationship between metrics, KPIs and KRIs and how they can be deployed in practice. It also presented the fundamental techniques for KPI selection, which ensure a rigorous process and quality result. Practical exercises were combined with best practice examples from a variety of industries and functional areas.
During the workshop, sharing challenges of previous experience in working with KPIs was encouraged and some of them were:
Selecting the most relevant KPIs;
Setting standards for KPIs;
Target setting – KPI documentation;
Collecting the data and analyzing it;
Managing with KPIs;
Leadership engagement;
Reporting mechanism;
Getting the buy in from staff.
In expressing their learning expectations from this course, participants had the following areas of interest:
Measuring the objectives of the entity;
Understanding KPI Typology & Terminology;
Learn about linking KPIs: cause and effect relation;
Find out different scenarios for measuring KPIS;
Deploying Corporate Performance Management Systems;
Deploying a culture based on performance;
Enhancing Employee engagement;
Learn how and when to review KPIs.
The key topics approached during the workshop were the following:
KPI naming standards and use of terminology;
Examples of KPIs in practice;
KPI lifecycle;
Techniques for KPI selection (KPI clustering, Value Flow Analysis, KPI balancing);
Designing Performance Architectures – Setting Objectives-KPIs-Initiatives.
The workshop was well received by participants mainly due to the rich content and hands-on approach, many leaving the workshop with several new ideas on the to do list.
For more details about Key Performance Indicators and Key Risk Indicators, visit www.smartKPIs.com
Tags: Adrian Brudan, KPI, Performance in Dubai, Performance in UAE, Strategy Leaders Forum, The KPI Institute