Time management and personal development – a balancing act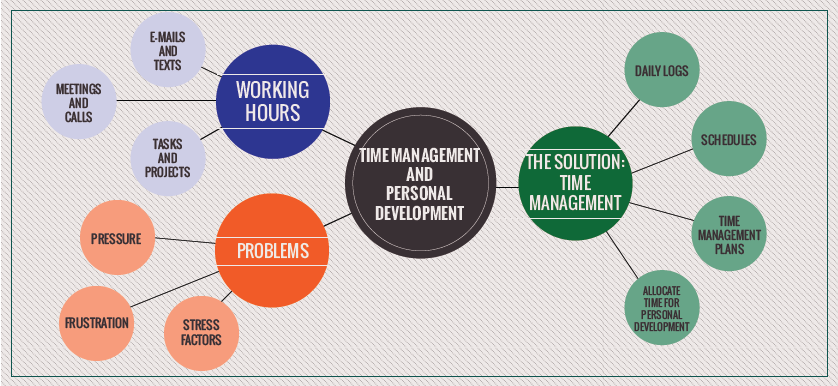 Getting up early, spending 40 minutes on physical exercises, over 2 hours a day on e-mails and texts, around 2 hours and 45 hours per day in meetings and conference calls, 1 hour and 45 minutes per day on tasks and projects, and allotting 30 minutes to personal development.
That is how we could sum up the data of a recent survey conducted by The Center for Management and Organization Effectiveness among successful executives from top companies in North America, such as Adobe, Bank of America and Google, just to name a few, in order to find out how they manage their time.
When you think of it, have you felt at least once that you cannot ever catch up on your tasks and plans? That you cannot get things done in due time, that you are falling short of time?
In the current business environment, achieving good performance usually entails being a good time manager, and it generally means doing your work efficiently and effectively. Time management is paramount in order to succeed and perform well in any activity. For some people, even the sound of this word is a chore, while trying to stick to a time management plan is considered something beyond the bounds of possibility.
Making the most of the time we have is essential both at our workplace and outside work. Daily logs, schedules, time management plans, time management solutions, they are all meant to help us organize our time, this valuable resource that can easily be wasted if we are not mindful about the way we allocate it.
Pressure, frustration, stress factors. We face them daily. Since work takes an important amount of our time every day, but also a lot of our energy, we find ourselves in the position of finding the formula that could help us solve the work-life balance equation.
With these in mind, we should consider benefiting from time management, not only in our professional life, but also in our personal life, so as not to leave us dragged out by fatigue, laziness and idleness, once we finish work. We should try to achieve something for our personal development. 30 minutes per day, one hour, or even more. Regardless of the amount of time allotted, we should find the time for ourselves.
One way of going about it would be to start asking ourselves what else we are interested in, apart from work and what we would like to learn in order to develop ourselves, personally wise. Then, we should start setting bigger or smaller personal goals (learn a new language, sign up for a photography course, read that book that has been waiting on the desk for weeks).
Perhaps the most important stage is to monitor the progress and achievement of those established goals. Ideally, we should start by doing one thing at a time. Focusing on reaching several objectives can prove to be tiresome, and then, eventually, we will be tempted to abandon them one by one.
Along with the solution, most of the time, we need to find our self-motivation that could take us from planning to action. Motivation plays an important role, and we must keep in mind that life satisfaction, health and well-being are as important as any project deadline that has to be met, and we must be mindful of how we go about it.
With all these, the good thing is that a new day means another shot at doing something useful and for your own personal benefit in those 24 hours. How about starting with tomorrow?