Journaling along the Camino de Santiago pilgrimage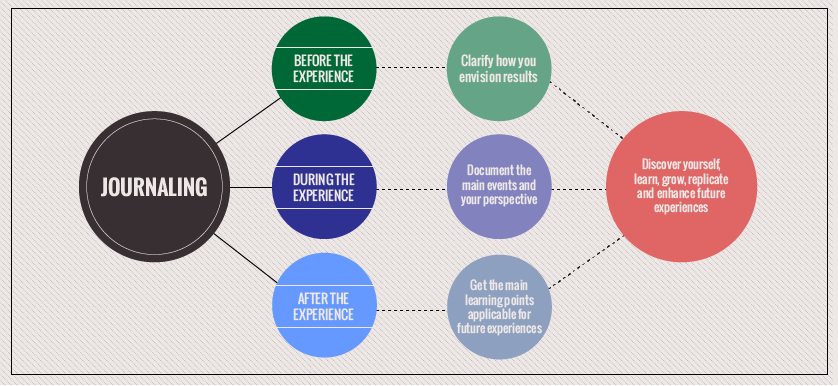 Has it ever happened to you to drive or travel by bus on the highway when your mind drifts off? The road is long and straight, it is in the middle of the night and the traffic is smooth, so you let your mind revisit all those thoughts that have been left unfinished, all those problems that are asking for a solution, all those aspects that you need to evaluate and integrate within your internal filters.
When being in this diffused mode of thinking, after a while, you tend to select from all the random ideas, most of them trivial and unimportant, those threads of thought which are really valuable to you, the ones that bring to the surface authentic and profound meaning to what you are experiencing at that moment of your life.
The good news is that you can reenact this process, consciously and in the proper context, and allocate it enough time in order to support you in tackling higher and more complex issues such as finding your direction in life, dealing with a career shift or clarifying your emotional life.
About the Camino de Santiago pilgrimage

The specific context I am talking about is undertaking the well-known pilgrimage of Camino de Santiago (The way of St. James). In this editorial I am going to stress upon the entire experience of personal renewal and discovery during this trail walking and how you can use journaling to extract the most out of it.
The Pilgrimage Camino de Santiago has been a religious route followed by believers, going as far back as the middles ages. It was meant to offer the ones who completed it plenary indulgence. In the past 20 years, this practice has grown and developed, nowadays attracting more than 200.000 people each year.
The Pilgrimage attracts different nationalities of which the most frequent ones are Spanish, German, Italian, Portuguese, American and French. It has different starting points, the 2 most popular ones being: Sarria in Spain, and Saint-Jean-Pied-de-Port in France.
This pilgrimage is the only trail trekking route which is finished by almost as many women as by men. The age of the majority of the persons deciding to embark on such an experience ranges between 30 and 60 years old. Most of them complete the route by foot, but a small percentage choose biking, horse riding, and even wheelchairs.
Depending on the chosen trajectory, the distance can range from 650 km (starting from Portugal), to 750 km (starting from France) or 800 km (from the Spanish starting point). The estimated time to finish the routes and arrive at Santiago de Compostela takes around 6 weeks.
The ones deciding to take this challenge and walk so many kilometers on foot have diverse reasons such as: religion, spiritual awakening, health, personal struggles and a sense of accomplishment.
This introductory information about the pilgrimage can be completed by reading the numerous books and blogs dedicated to this experience, or by watching the documentary made in 2013, called Walking the Camino: Six Ways to Santiago. Additionally, an artistic movie which left a very profound impression on me: The Way, a film starring Martin Sheen and Emilio Estevez (2010).
All the details regarding preparation and what you may need to pack, together with practical advice, can be obtained from the forums dedicated to this pilgrimage. More personal notes from those which have finished it can be found in the journals that they have uploaded online on trailjournals.com, or other similar sites.
Besides this, and from what I have researched so far, this pilgrimage is a life changing experience that we all need to achieve at least once in a lifetime. If you find yourself in a moment where you need to put order in your live, you are looking for a deeper meaning in life, you want to get the answers for the questions that have been following you so far, then this might be what you need.
Journaling prompts for the Camino de Santiago pilgrimage

My personal contribution towards this wonderful experience is to offer you a framework for filling your journal entries, so that you can take the most out of this pilgrimage. I have divided these prompts into 3 different stages as follows:
Before you leave
Take the time to prepare for this journey, make sure you have the appropriate time, context and state of mind to answer the following questions:
Why have I decided to go on this pilgrimage?
What do I expect to get out of this experience?
What do I lack right now and I want to find along the way?
How do I see myself at the end of the road?
How do I want to feel on the route?
How do I want to feel when I arrive at the Cathedral Santiago de Compostela?
What kind of experiences am I eager to live?
What type of persons do I want to meet along the way?
What type of persons do I need to meet along the way?
What don't I want to experience during this trip?
What are the main lessons I expect to receive by the end?
How do I want my life to change upon my return?
What stories do I want to share to my friends and my family once I am back home?
What is the most important aspect of this pilgrimage for me?
During the pilgrimage
On the route you have chosen, try to keep a journal with you in which you have written down the answers from the previous questions, so that you can get back to them whenever you feel like doing so.
Most probably, you are going to be really tired and will want to crash directly into a bed, but taking even 5-10 minutes to write down will give you invaluable insights. My suggestion is that you ensure that every day, before going to a well-deserved sleep, you take the time to answer this short set of questions:
What was the most beautiful moment of the day?
What was the most difficult moment of the day? How did you manage to overcome it?
What was the most important lesson you got from today?
What do you want to remember from today, 30 years from now?
What are you grateful for?
Returning home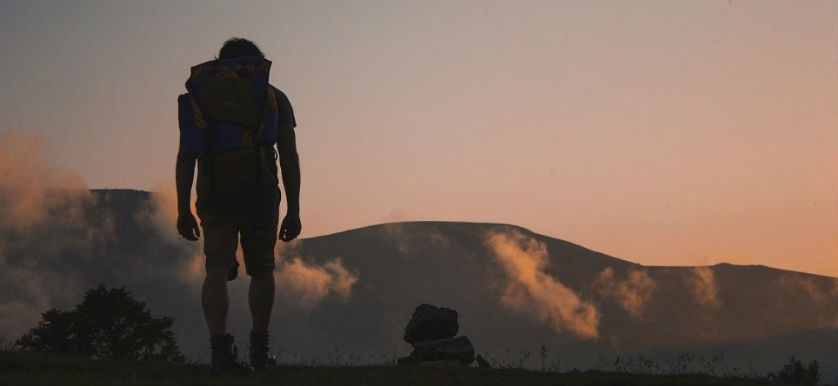 After you arrived home, and you had had the time to recover and get quality rest, take the time to go through the answers you have written before leaving, and during the pilgrimage. Use this time to have a proper closure of the experience and take full advantage of your journal entries. In this sense, answer the following questions:
Did I get what I was initially expecting to take from this experience? What else did I get?
How did I feel when I have reached the cathedral at the end of my trip?
How have I changed in the past weeks?
What type of persons have I met along the way? What have I learned from them?
What are the main lessons that I have received during the pilgrimage?
How do I plan to apply these lessons in my life?
What do I plan to do differently from now on?
What am I motivated and committed to achieving after this trip?
What needs to happen in order to honor the experience of this pilgrimage?
How do I want to interact with the persons in my life?
What is the most important thing in my life right now?
What is the promise that I make to myself after this journey?
These are the journaling prompts that I propose for your Camino de Santiago experience, so that you can get the most out of it and vividly live every minute of it. Feel free to add any questions that you consider important to you, leave out the redundant ones, but do keep a recording of it all as it's a unique and very fit opportunity for self-discovery and renewal.
Image sources: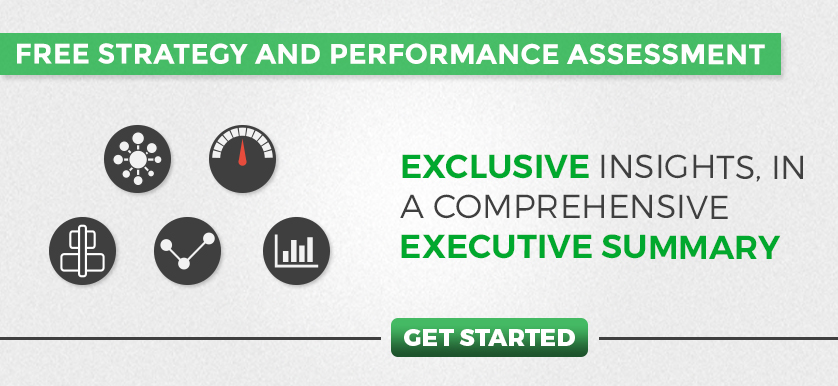 Tags: Journaling, Personal Development, Personal performance