Marketing capabilities reflect how organizations enhance their ability to learn and leverage the market to respond to customer changes accurately and efficiently. Various stakeholder expectations have to be fulfilled, and the need to constantly be responsive to internal and external stimuli makes it even more difficult to direct organizations' marketing efforts. Indeed, to adapt to changing conditions rapidly, tourist marketers are forced to be more agile and capable of reacting quickly and easily to market changes.
In 2018, in the study "Towards the Development of an Agile Marketing Capability," researchers Ludovica Moi, Francesca Cabiddu, and Moreno Frau defined agile marketing as a new marketing management approach based on practical learning and aimed at breaking the rigidity of traditional marketing. In particular, marketing encourages teams to work together on a common goal centered on customer needs and regularly checks for weak or unnecessary steps to adjust and optimize operations accordingly. Hence, agile marketing drives greater customer interaction and value, greater speed to market demand, and greater ability to adapt to changes as they occur, based on the paper "From fragile to agile: marketing as a key driver of entrepreneurial internationalization" conducted by Birgit Hagen, Antonella Zucchella, and Pervez Nasim Ghauri in the same year.
This article will discuss agility and marketing capabilities by providing the recently conceptualized Agile Marketing Capability (AMC) framework. The discussion describes how firms may differ in the development and management of AMC through the identification of different maturity levels where maturity refers to the state of being ready. It explains how tourism marketing managers and practitioners could become more agile in their marketing capabilities, providing a useful tool to assess a firm's current state of each capability maturity and to quickly grasp potential initiatives for improvement and enabling adaptation to a dynamic fast-changing environment especially in the context of MICE (meetings, incentives, conferences, and exhibitions) tourism, which comprises a large network of hospitality-related services such as accommodations, catering services, and transportation. 
MICE represents a highly dynamic sector involved in a continuous exchange and allocation of resources and relationships for planning events to address and satisfy a variety of requests and needs where marketing efforts should be designed according to the variety of attendees so that their objectives and requirements are properly met.
The Emergence of the AMC Framework
According to the study "Investigating firm's customer agility and firm performance: The importance of aligning sense and response capabilities" conducted in 2012, Nicholas Roberts and Varun Grover defined agility in the marketing field as the extent to which the company can predict and rapidly adapt to customer-based opportunities for innovation and improvement action. Therefore, marketing agility refers to being responsive to constantly changing customers' expectations and needs and becoming flexible in designing objectives and allocating resources accordingly. 
Based on "International marketing agility: conceptualization and research agenda" led by Emanuel Gomes in 2019, marketing agility is the firm's ability to reconfigure its marketing efforts at short notice, adapt to changing market conditions quickly, and fulfill market needs more effectively.
Despite the growing importance of agility in the marketing field, the mainstream strategy could not address agility properly in the context of corporate marketing capabilities. Early studies analyzed marketing capabilities from the resource-based view (RBV) perspective, assuming a static and internally driven approach. Over time, the 2011research "Closing the Marketing Capabilities Gap" conducted by George Day began to be questioned because of its inability to adapt to a fast-changing business context.
Therefore, a new approach has emerged to aid in the development of new marketing capabilities to be able to grasp the firm's capacity to sense the market and to look for different ways to reconfigure available resources accordingly. This led to the conceptualization of a different set of marketing capabilities oriented to more open and adaptive paths to fast-changing contexts. AMC Framework contributes by embedding agility that is better suited to align with the urgent need for the tourism industry to transform its business in a time of environmental turbulence.
Applying the AMC Framework
Held in 2019, the research study led by Emanuel Gomes alongside Carlos M.P. Sousa and Ferran Vendrell-Herrero defined AMC as the firm's marketing capability to (1) constantly sense and respond to changes related to customer needs and requests; (2) follow an adaptive and flexible approach in dealing with changes; (3) create close work relationships among people and a collaborative working environment; and (4) continuously and quickly adjust and deliver new marketing plans (see Table 1).Those capabilities can be assessed through four maturity levels (see Table 2).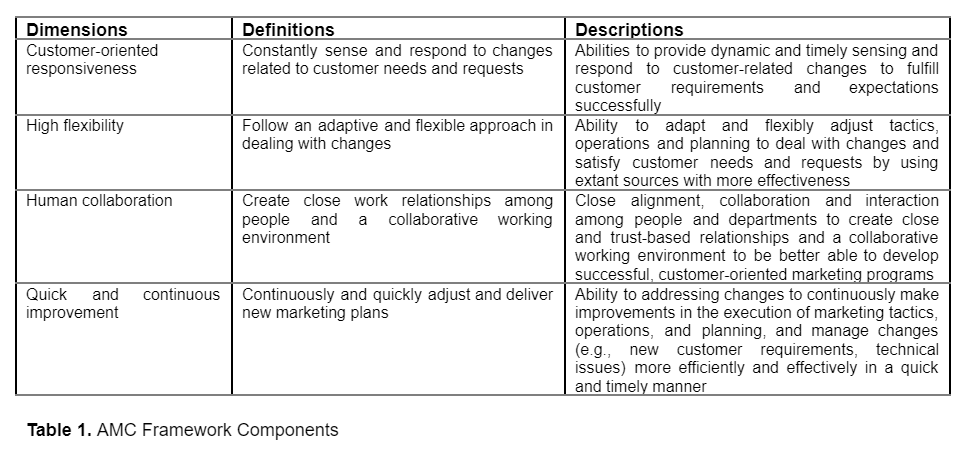 The AMC framework offers practical guidance on what strategic actions are needed for the implementation, development, and enhancement of agile marketing capabilities. Therefore, AMC could be used as a tool to assess the current state of maturity level in the development of the capabilities and to understand how to move through each maturity level, accurately implement improvement actions, and enable high-performance marketing.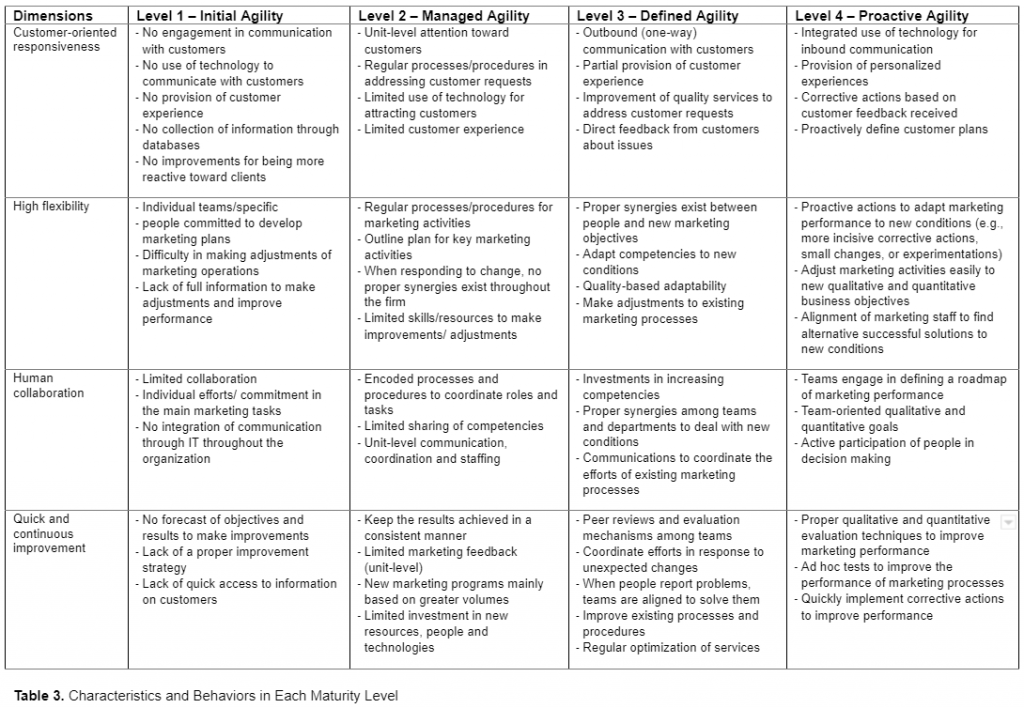 Moreover, the framework can also support marketing managers in benchmarking and evaluating best practices across the tourism industry, improving marketing performance and being more adaptive to the changes in the market.
Tourism managers can use the AMC checklist for auditing how well their organization is implementing marketing agility and creating an action plan to achieve a higher level of maturity. Tourism firms can have a practical guideline to boost marketing capabilities by referring to the agile marketing capability maturity framework.
If you are interested in exploring more about maturity models that support organizations to achieve business excellence, check out The Global Performance Audit Unit's Integrated Performance Maturity Model. For inquiries, contact Cristina Mihăiloaie, Business Unit Manager – Research Division at The KPI Institute: [email protected] | +61 (390) 282 223
Editor's Note: This article originally appeared in the 23rd edition of Performance Magazine Printed Edition.