White Paper Release: Sustainability Reporting – Making sense of the international frameworks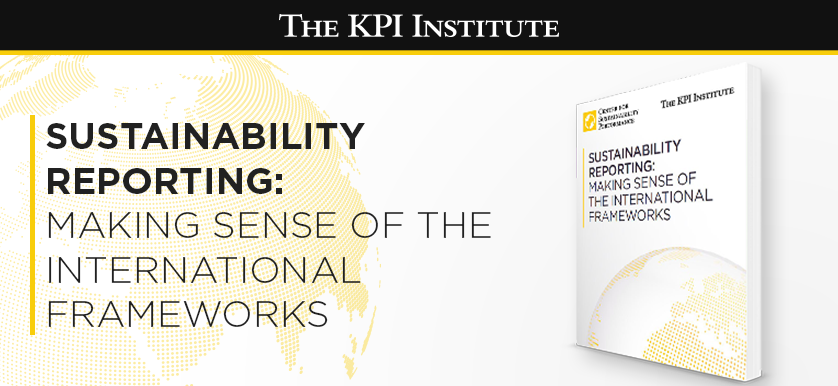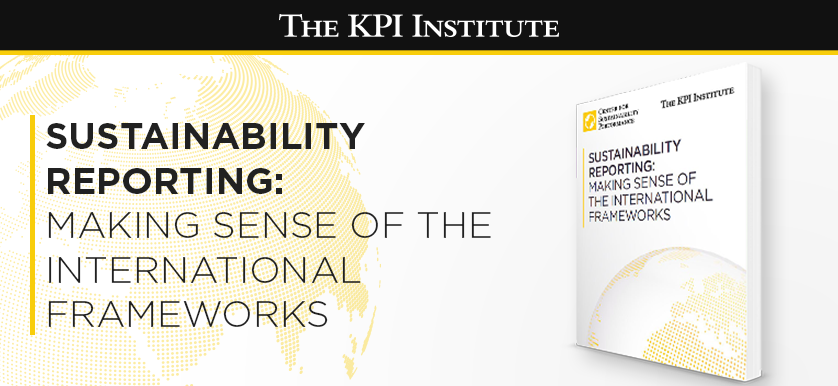 The KPI Institute's Center for Sustainability Performance is proud to announce that we have released our secondary research paper, Sustainability Reporting – Making sense of the international frameworks!
Sustainability reporting has been increasing in scope over the past years, driven by major trends reflecting shifts in the regulatory, community, investor and consumer landscapes. At the same time, the proliferation of international sustainability reporting tools is helping improve the comparability of reports, contributing to the gradual global harmonization of the non-financial reporting process.
In the wider context of sustainability reporting, this white paper aims to help organizations make sense of the most widely-used international non-financial reporting frameworks, by analyzing them based on several factors, such as sustainability areas, KPIs, materiality, stakeholder focus and benefits. The report further provides guidance to organizations on selecting the most optimal sustainability reporting tools, based on their scope and capabilities.
What to expect from this report
Overview of key trends driving reporting practices worldwide
Standardized analysis of 7 of the most utilized international sustainability reporting frameworks
Comparison of the 7 frameworks based on key elements, including subject coverage, industry guidance and KPIs
Recommendations on how to select the most suitable reporting tools for your organization, according to your resources, capabilities and reporting needs
If this is something that interests you, the white paper can be downloaded for free here.
About the Center for Sustainability Performance
Operated by The KPI Institute, a leading global research institute specialized in business performance, The Center for Sustainability Performance disseminates and applies more than 14 years of expertise in Key Performance Indicators (KPIs) research and education to the sustainability field.

The Center for Sustainability Performance provides dedicated professional sustainability related services, ranging from consultancy and research, to specialized trainings, which promote the use of advanced non-financial reporting standards and help organizations manage and improve their sustainability operations.

Tags: sustainability KPIs, Sustainability performance, The KPI Institute


Fatal error: Uncaught Error: Call to undefined function wp_related_posts() in /home/performa/public_html/wp-content/themes/yoo_nano3_wp/warp/systems/wordpress/layouts/single.php:27 Stack trace: #0 /home/performa/public_html/wp-content/themes/yoo_nano3_wp/warp/src/Warp/Helper/TemplateHelper.php(49): include() #1 /home/performa/public_html/wp-content/themes/yoo_nano3_wp/warp/systems/wordpress/layouts/content.php(50): Warp\Helper\TemplateHelper->render('layouts:single') #2 /home/performa/public_html/wp-content/themes/yoo_nano3_wp/warp/src/Warp/Helper/TemplateHelper.php(49): include('/home/performa/...') #3 /home/performa/public_html/wp-content/themes/yoo_nano3_wp/layouts/theme.php(631): Warp\Helper\TemplateHelper->render('layouts:content') #4 /home/performa/public_html/wp-content/themes/yoo_nano3_wp/warp/src/Warp/Helper/TemplateHelper.php(49): include('/home/performa/...') #5 /home/performa/public_html/wp-content/themes/yoo_nano3_wp/index.php(13): Warp\Helper\TemplateHelper->render('layouts:theme') #6 /home/performa/public_h in /home/performa/public_html/wp-content/themes/yoo_nano3_wp/warp/systems/wordpress/layouts/single.php on line 27