Sustainability in the Apparel industry. Insights from Anika Kozlowski, Michal Bardecki, Cory Searcy – PMA 2014 Conference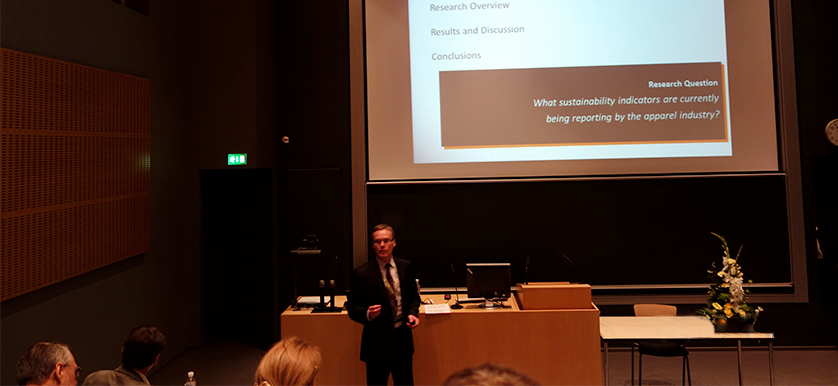 The second day of the PMA 2014 Conference provided participants with another presentation dedicated to sustainability: "Corporate Sustainability Reports in the Apparel Industry. An Analysis of Reported Indicators", and held by Anika Kozlowski, PhD Student, Michal Bardecki, Director Graduate Programs in Environmental Applied Science and Management and Cory Searcy, Associate Professor, Associate Chair, Program Director of Industrial Engineering Program, Ryerson University.
Their research study's purpose was to identify the sustainability related indicators used in 14 apparel brands belonging to the Sustainable Apparel Coalition (SAC). The indicators were clustered in a cross-case analysis of the apparel sustainability reporting, along the specific initiatives and actions the analyzed companies have implemented.
One of the researchers' findings is that, although the concept of sustainability is properly and completely understood, companies have a hard time integrating it into their Corporate Social Responsibility (CSR) strategies. The study identified the main indicators used in the apparel industry companies' CSR reports.
The indicators were identified through both a qualitative and quantitative analysis of the 14 SAC apparel brands websites.
The researchers have identified five key themes in CSR Reporting for the SAC fashion brands:
Product sustainability
Consumer Engagement
Business Innovation
Design Practice
Sustainable Supply Chain Management (SSCM)
From these areas, SSCM had the largest number of reported indicators, while the fewest ones were identified in the area of Business Innovation.
However, the researchers have concluded that sustainable approaches in design are still in their early ages, as the aesthetic still manifests its dominance over environmental or social considerations when consumers purchase apparel products. Also, comparisons between different SAC companies' indicators are difficult, as there is still no standardization when it comes to CSR reporting.