Practitioner Interview: Tom McKeown, CEO at TrenData, USA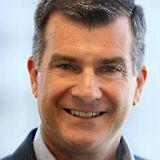 Back in 2018, the Performance Magazine editorial team interviewed Tom McKeown, CEO at TrenData, USA. His thoughts and views on Performance Management are presented in detail below.
Human beings in a free market society are always looking to move on or up. In addition to grading individuals on how they are doing in their current job, it's motivating to let them know what levels they need to hit.
Trends
1. Which were the key trends in Performance Management, from your point of view, as seen in 2017?
It's been ongoing for a while, but the trend is steadily away from once a year performance reviews and more real time models with immediate or at least quicker feedback.
In addition to this, another noteworthy trend is the widening of input to allow individuals to hear not only from their managers but their peers as to performance and being able to give feedback on their managers.
2. What are your thoughts on the integration of Performance Management at organizational, departmental and employee level?
As organizations flatten and become more distributed, remote technologies become more key. Organizations will exist more and more in virtual groupings rather than physical ones.
The ability to track performance, process and progress at these levels will be extremely important to monitoring and predicting production and revenue benefits.
3. Which will be the major changes in managing performance, in the future?
Managing remote performance, tying performance to revenue, and developing high performer/potentials to be future leaders will be much needed in the future.
Also, a big factor will be how to more completely incorporate performance into overall people analytics. This is so companies can visualize their high performer population and take safeguards to endure retention.
Research
4. What aspects of Performance Management should be explored more through research?
The first would be to find accurate measurements of performance that are not the subjective opinion of a manager or peer.
Positions that don't provide as tangible result result, like marketing, can be very difficult to quantify from a performance standpoint, particularly if the role is part of team producing a collective result as is the case in many project-based industries such as construction or even marketing.
Secondly, is there a way to measure effective effort? If you think of sales positions, it's possible that a sales person is underachieving due to a bad territory.
Most sales managers are reluctant to give an underperforming rep a chance in another territory or position after one failure. If more information were available to show that rep was doing all the right things, but the composition of his or her territory just wasn't ripe for a particular offering, could that person be effective somewhere else?
5. Which organizations would you recommend be looked at, due to their particular approach to managing performance, and their subsequent results?
Many large companies such as GE, Adobe, and Accenture have done away with annual performance reviews concluding they were ineffective.  Many start-ups use a more short term goal management approach.
Rather than schedule the reviews and try and squeeze goals inside those time frames, they schedule the reviews when the goal is accomplished, or should have been accomplished.
6. Which of the existing trends, topics or particular aspects within Performance Management have lost their relevance and/or importance, from your point of view?
The annual performance review. Employees hate it, managers hate it.  Often the typical manager can't remember the charter they set for their employees at the beginning of the year.
A more effective process is one that has more meetings during the year that do focus on measurement, but also adjustment and encouragement.
Practice
7. Which are the main challenges of Performance Management in practice, today?
Judging performance of non-quantifiable positions. It's easy to judge if a salesperson or developer met their targets, the evidence is in the number or completion.  But developing targets and goals for non-managers in marketing or operations can be more challenging.
8. What should be improved in the use of Performance Management tools and processes?
The integration with other talent and HR metrics. Being able to drill down on any metric to see if patterns develop when performance is viewed by certain job levels, income groups, or locations. Also using analytics to see if performance trends up or down over certain time periods that can perhaps be linked to programs or events.
9. What would you consider as a best practice in Performance Management?
Human beings in a free market society are always looking to move on or up. In addition to grading individuals on how they are doing in their current job, it's motivating to let them know what levels they need to hit and what additional skills they can acquire to move to the next level.
Education
10. Which aspects of Performance Management should be emphasized during educational programs?
I think this can be looked at two ways depending on the type of organization and culture. There are of course educational degrees and certifications that help individuals in their selected jobs and fields.
But there is also the training of how to seek out and fill gaps that might not be in one's exact job description.  This is the type of skill that can takes start-ups to viability and viable companies to industry leadership.
11. What are the limits that prevent practitioners from achieving higher levels of proficiency in Performance Management?
I think it's the approach of managers of treating performance reviews like report cards. That means there is a teller and listener. If mangers treat the process as a joint endeavor where the journey is shared, and the success is mutually beneficial, then upside is exponential.
Specialization Specific Point of View
12a. Academic Point of View: We are developing a database of subjects/degrees in Performance Management. What are your suggestions relevant to the database (i.e. subjects/degrees such as the Masters in Managing Organizational Performance)?
In my opinion, focusing more on Behavioral Science and Data Science would yield great results, as these fields are in an increasing need of experts.
12b. Consultant Point of View: What are the processes and tools you look at, in order to differentiate a successful performance management system, from a superficial one?
Some of the processes I give most attention to are Peer and 360 review capability.
12c. Practitioner Point of View: Which were the recent achievements in generating value from performance management in your organization?
Charting career paths with individuals that breaks down the steps individuals need to make to achieve near and long-term goals.