Portfolio of Initiatives: Is it an important tool in performance management?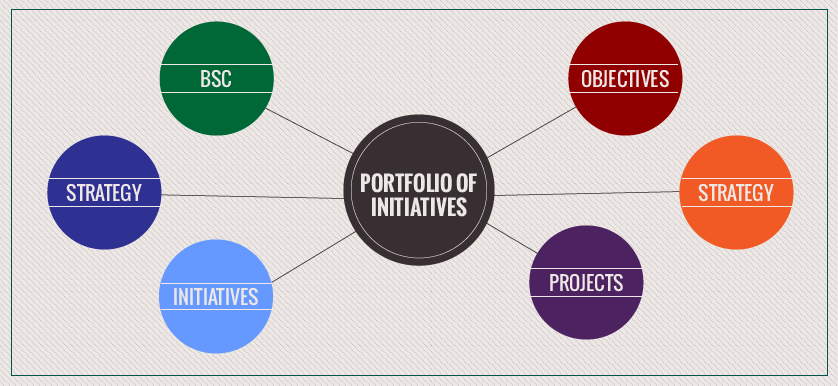 In today's business environment, strategic initiatives are becoming more and more complex. However, there are few organizations that have tools implemented to routinely monitor the initiatives' performance.
What is the portfolio of initiatives? Briefly, it is a collection of projects the organization is implementing in order to fill an existing performance gap and achieve the desired state. The important part is to develop this tool based on the Balanced Scorecard of the organization. Thus, for each objective, initiatives have to be identified, to support their achievement.
Why should we consider initiative management important? In "The Office of Strategy Management: Emerging Roles and Responsibilities", Robert S. Kaplan and David P. Norton put initiative management in context as a major part of the strategy management process.
Practice shows that most organizations, once they embark on their strategy execution journey, discover that they have too many initiatives to manage reasonably, and no clear insight on how all those projects support their strategy. Also, monitoring the progress of all initiatives and the value they add over time can be cumbersome without a tool in place.
Would the Portfolio of Initiatives be an effective tool to solve the problems stated above? Absolutely. It will allow decision-makers to better manage their projects and track the performance of each initiative. Also, it will clearly illustrate the resources allotted to each project, in terms of budget and talent, ensuring initiative prioritization.
Now, are there any challenges in implementing this tool? Here's a question… Also, how do managers decide the importance of each initiative and how do they assess their impact upon the company? Moreover, what other challenges can we further encounter?
As far as I'm concerned, I believe that difficulties might arise when determining the proper number of projects for each objective, and more precisely when setting priorities. Financial resources are also limited, as the company cannot support the implementation of all projects it may come across.