Performance Management in the South African Public Service System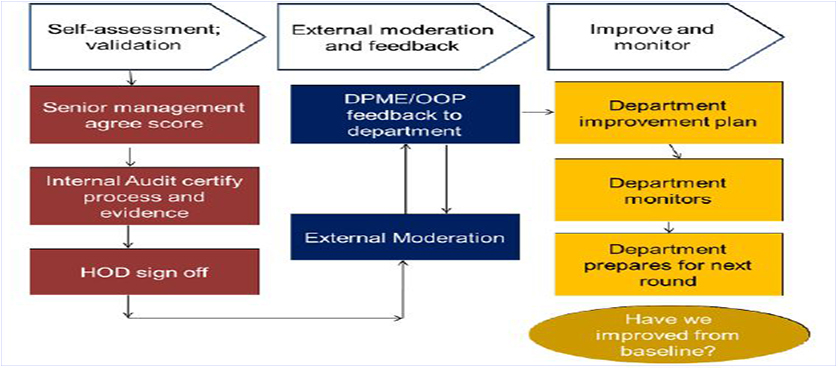 The South African Department of Performance Monitoring and Evaluation in the Presidency (DPME) was instituted in 2010, with the purpose of ensuring continuous improvement in service delivery, through performance monitoring and evaluation. Their key focus areas are built around performance monitoring and evaluation of governmental priorities, assessing the quality of management practices in governmental departments and indicators development.
Their strategic orientation is towards ensuring the fact that the South African Government reaches its developmental targets, by focusing on result delivery. To this effect, they have implemented several monitoring and assessment tools, including the Management Performance Assessment Tool (MPAT), for internal monitoring, management quality and benchmarking generic management practices.
From 2012 to 2013, the DPME, along with the Department of Public Service and Administration, National Treasury, and all Offices of the Premier have collaborated to assess performance within their governmental structures, using the previously implemented MPAT assessment framework.
The Key Performance Areas covered in the report are the following: Strategic Management, Governance and Accountability, Human Resource Management, Financial Management, elaborated into 31 standards.
The results encompassed data from 156 departments and have concluded that both the Strategic Management and Financial Management areas have improved, as a direct consequence of the previous MPAT assessment, for the year 2011/12. The authorities estimate that implementing the annual assessment has determined an increase in awareness and focus to monitoring performance in basic management and administration.
Related to their stated management standards, a disaggregated view has allowed rapid identification of the administrative departments where adjustments are required. The following conclusions were drawn:
For the Strategic Management performance area: a vast majority of departments have met or exceeded their regulatory requirements, albeit some departments having failed to monitor and evaluate their policy framework.
For the Governance and Accountability performance area: an overwhelming majority of departments have not met the criteria for service delivery and improved professional ethics.
For the Human Resource Management performance area: conclusions were not globally positive, with unsatisfactory results in meeting standards for HR planning, diversity management and implementing a Performance Management and Development System for Senior Managers.
For the Financial Management performance area: they report high performance in cash flow management and disposal, with the mention that there were weaknesses in managing unauthorized, irregular, wasteful expenditure.
Overall, the MPAT 2012/13 results were strongest for Strategic Management, with most standards being met or exceeded, whereas the overall results for Governance and Accountability and Human Resource Management were not positive. Financial Management departments have shown signs of improvement, but with generally unsatisfactory results.
These findings are of particular interest, as they allow the development of targeted strategic interventions. Furthermore, the results are valuable as they highlight improvements from previous assessments. This, in itself, constitutes the premises of a more elaborate intervention, with potentially high benefits for overall governmental performance.
References:
Image source:
Tags: Government - Local performance, Government performance, MPAT, Performance in South Africa, Performance Management