On Corporate social performance and Corporate financial performance with Sylvia Grewatsch and Ingo Kleindienst – PMA 2014 Conference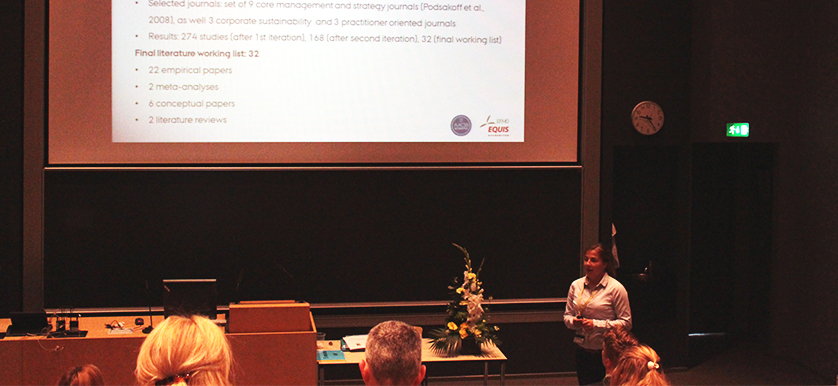 On the second day of the PMA 2014 Conference, the Associate Professor of Strategy Ingo Kleindienst and the PhD fellow Sylvia Grewatsch, from Aarhus University, held a presentation named "When Does It Pay to be Good? Moderators and Mediators in the Corporate Sustainability Performance – Corporate Financial Performance Relationship: A Review".
Their research had as a starting point the major importance of Corporate Sustainability, and especially of the relationship between its two components, Corporate Sustainability Performance (CSP) and Corporate Financial Performance (CFP) and aimed at providing a review of research exploring the unpredictable affecting the CSP – CFP relationship.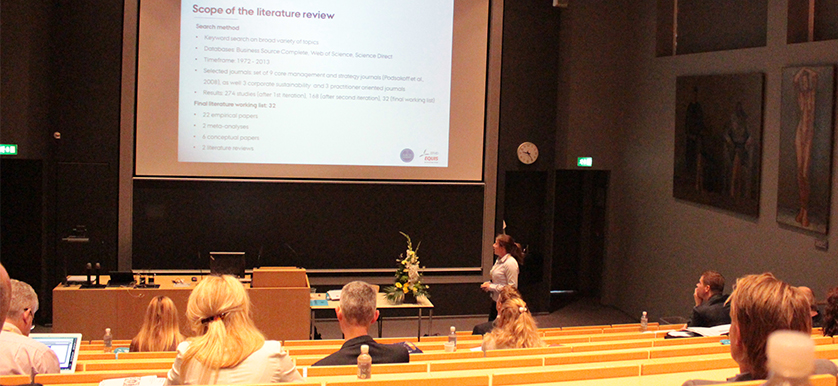 By reviewing relevant literature, Ingo Kleindienst and Sylvia Grewatsch classified both moderators and mediators into two categories: organizational and environmental.
1) Organizational moderators:
Firm characteristics
Differentiation between sustainability engagement
Managerial perception & behavior
2) Environmental moderators:
Stakeholder relationship
Industry characteristics
Business environment
The mediators they identified are intangible resources (related to organizational mediators), and stakeholders response (environmental mediators).
The two academics have found the research on this relationship to be "fragmented and underdeveloped", as the number of studies addressing this issue is relatively small, and also due to a shortage when it comes to investment in theory building.
In the ending, they also provided examples of potential moderators and mediators, at both organizational and environmental level.