The National Development Indices Catalogue 2017 is out!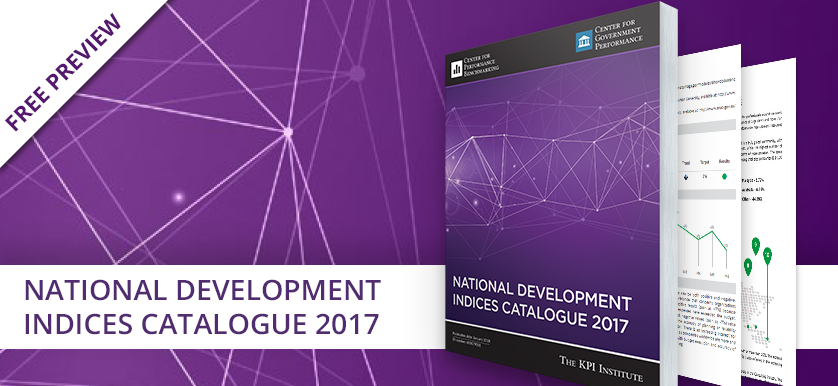 Performance measurement has started recently to be frequently employed in global matters as well and several international organizations have developed complex indexes to measure the state or the evolution of different policy areas across countries.
However, each organization developed their own way of explaining the definition, utility, methodology and findings for the index they developed, which can bring a degree of confusion for every reader who needs to analyze several indexes in comparison. Hence, a standardized documentation form was created for this catalogue and the information from each index was studied, restructured and standardized based on the documentation form.
The National Development Indices Catalogue 2017 is a repository of Key Performance Indicators containing 57 fully documented indices, monitored at the country level. Discover how your country is performing in terms of its national, political, environmental, economic, governance effectiveness, social progress, information technology development and sustainable climate aspects.
The indexes included in the catalogue track the health of the economic, social, environmental and public services context at regional and global levels from different perspectives. These are influential global indexes and their complexity is given by the variety of sources and methods used to gather the data, but also by the number of countries they measure.
EXPLORE THE CONTENT
It contains the most representative indices used nowadays by international organizations;
Presents the latest data available (as of end of October 2017), covering 275 countries and independent territories, as well as oceans.
It brings together the performance of countries in a variety of areas in one report;
The indices are documented in a standardized and approachable way;
It enables comparisons among countries.
This indexes catalogue aims to provide a better understanding on how international and multifaceted phenomenon can be measured and how this measurement can be used to pinpoint certain excellence or improvement areas in a global environment. Moreover, this catalogue can be used as a standardized tool for understanding the indexes, their methodology or their calculation formulas and seeks to enable the reader to easily compare the similar indexes among each other.
You can access the report's preview for free from our marketplace, or by downloading it from our library.
If you are interested in purchasing the full report, you can do it from the following links: