Metrics reflecting the health insurance coverage in the U.S.A.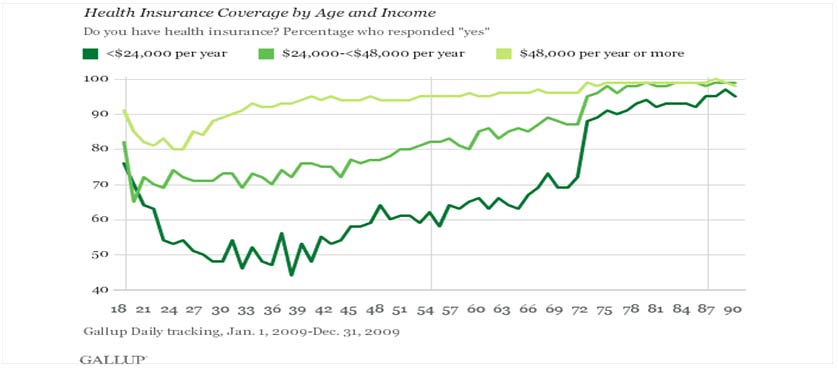 The Gallup Daily tracking analysis, Health Insurance Coverage Varies Widely by Age and Income, underlines the wide degree of variability in 2009 in health insurance coverage across U.S. population segments, based on age and income. Health insurance coverage is one of the most important Key Performance Indicators (KPIs) used to track the health of the national healthcare system (smartkpis.com, 2010).
As indicated by the graphic above, the health insurance coverage is generally lowest in Americans' mid-twenties and strongly related to income, ranging from a low of 44% among 35-year-olds making less than $24,000 a year to 100% among seniors in their 70s making more than $24,000 a year (Newport, F 2010).
An average of 16.2% of American adults lacked health insurance coverage in 2009, increasing up from 14.8% in 2008. The analysis indicates that lack of health insurance coverage is due to two main reasons:
voluntary decision to do without
economic circumstances, including lack of access to employer-paid insurance.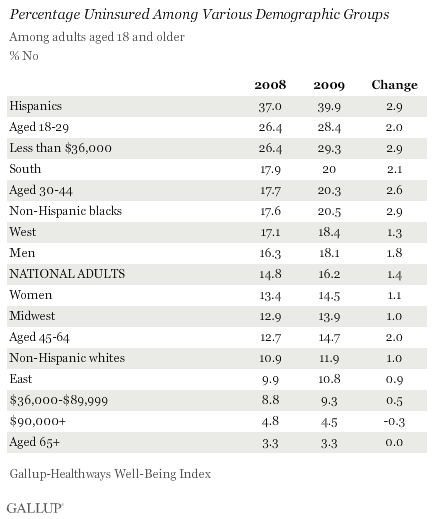 An average of 39.9% hispanics  lack healthcare coverage, this representing more than double the current national average. This level of the indicator makes hispanics the most likely demographic segment of the adult population to be uninsured. From 2008 to 2009, the percentage of uninsured low-income Americans, Hispanics, and blacks increased by 2.9 percentage points (Mendes, E 2010).
The results of the analysis are based on telephone interviews with more than 353,849 national adults, aged 18 and older, conducted Jan. 1-Dec. 31, 2009.
Resources:
Image Source: Newport, 2010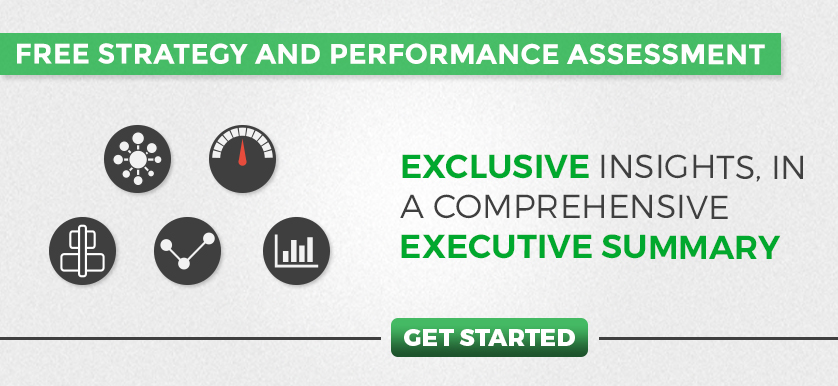 Tags: Government performance, Health Insurance Coverage, Healthcare performance, KPI, Performance in USA, Performance Measurement