Practitioner Interview: Amir Orad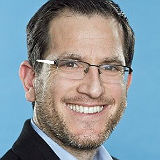 In 2018, the Performance Magazine team managed to obtain an interview from Sisense's CEO, Amir Orad, following Sisense's second coronation as a Visionary in Gartner's BI Leader quadrant. Sisense was placed on the cusp of the Leader quadrant, based on its ability to execute, with a 100% "excellent" rating ratio in user satisfaction.
"Performance measurement used to be about straightforward metrics, now the world is more complex, and metrics have become multi-dimensional. In other words, you need to look at things like return on lead generation in social media, or someone's effectiveness in hiring productive salespeople."
Given Sisense's impressive achievement of being crowned a Visionary for a 2nd year in a row, could you go into greater detail and tell us which were the most important novelties that brought Sisense this title?
Sisense has a very simple formula that has worked year after year to advance us in the Magic Quadrant and in the market: Sisense innovates ahead of the market consistently, in ways that make business users more capable and powerful in handling their data challenges. We deliver that value with an eye towards providing the highest level of customer satisfaction possible.
That commitment to consistent innovation, execution, and customer success directly translates into a product that is easier to use, provides better results, and offers higher return-on-investment than the alternatives. The results in the Magic Quadrant show that the market is taking notice.
Given your in-depth work with business analytics, we'd be interested in finding out which Business Management aspects should be explored more through research? In other words, which analytics and or elements within this field could be given a lot more focus?
There are two areas that we believe are often overlooked or misunderstood by the market and could benefit from additional research:
The first is around embedded analytics — every company on the planet is sitting on an untapped goldmine of data, which is now only used for operations and to deliver services. All of those datasets can be mined, and leveraged to provide better insights and better analytics as a service to end-users. This opportunity to embed analytics and deliver insights throughout every company and every product is massive.
This is something that Sisense is very focused on given its emphasis on data agility and analytics, but it's not well understood by many other firms in this space.
The second area is very different — more and more people have diverse datasets that they want to analyze but unfortunately, many make the same mistake of trying to do that with an all-encompassing data warehouse project, which takes a lot of time and money. The worst part of these is that (most of the time) companies have new data sets that are not in the warehouse by the time they're done with the project.
We believe that research should be done around whether customers really need those warehouses. We think it will show that most companies don't need to build a data warehouse, or could use a solution like Sisense to make use of what's in the data warehouse if they already have one.
With Sisense being positioned highest on the ability to execute axis in the Visionaries quadrant, thus claiming authority in the field, what do you feel should be improved in the use of business & Performance Management tools and processes, in order to take them to the next level?
The last generation of tools – Tableau, Qlik, and Excel – were very good at giving day-to-day users the ability to visualize their datasets, making the process more intuitive and more consumable to those users.
Sisense is already taking this to the next level, giving everyday users the ability to analyze complex data sets – moving away from mere visualization to true complex data analysis. Sisense makes all business decision makers more powerful and capable in this activity, which historically required the input of technical staff or data experts.
The opportunity ahead is to take AI and machine learning even further. We think that we'll soon see a day where every business user is not just a data analyst or a power user, but are able to leverage technology to make exponential, Einstein-like advances using the data.
We're proud to be at the forefront of this trend at the moment, but there is still a lot more that can be done as the technology evolves.
In your opinion, which are the main challenges encountered in Business Management in practice, today?
Business management and performance management are based on the ability to measure activity and progress. Unfortunately, today's world is not so simple.

Performance measurement used to be about straightforward metrics, like counting widgets rolling off the assembly line, or how many miles someone was driving, or how many newspapers someone was selling. Now the world is more complex, and metrics have become multi-dimensional.

In other words, you need to look at things like return on lead generation in social media, or someone's effectiveness in hiring productive salespeople. For these types of metrics you need to measure many different criteria, which may be spread across marketing, human resources, finance, and HR. Those multidimensional problems cannot be tracked easily (or at all) without advanced analytics.

Fortunately, the BI market is heading in that direction and, despite the fact that adoption of these tools is still relatively low, companies like Sisense and others can help bridge that gap. Without these tools, managers will either continue to rely on simple measures that don't reflect reality, or they'll take on ambitious KPIs to measure, and fail.

Tags: Interview, Practitioners


Fatal error: Uncaught Error: Call to undefined function wp_related_posts() in /home/performa/public_html/wp-content/themes/yoo_nano3_wp/warp/systems/wordpress/layouts/single.php:27 Stack trace: #0 /home/performa/public_html/wp-content/themes/yoo_nano3_wp/warp/src/Warp/Helper/TemplateHelper.php(49): include() #1 /home/performa/public_html/wp-content/themes/yoo_nano3_wp/warp/systems/wordpress/layouts/content.php(50): Warp\Helper\TemplateHelper->render('layouts:single') #2 /home/performa/public_html/wp-content/themes/yoo_nano3_wp/warp/src/Warp/Helper/TemplateHelper.php(49): include('/home/performa/...') #3 /home/performa/public_html/wp-content/themes/yoo_nano3_wp/layouts/theme.php(631): Warp\Helper\TemplateHelper->render('layouts:content') #4 /home/performa/public_html/wp-content/themes/yoo_nano3_wp/warp/src/Warp/Helper/TemplateHelper.php(49): include('/home/performa/...') #5 /home/performa/public_html/wp-content/themes/yoo_nano3_wp/index.php(13): Warp\Helper\TemplateHelper->render('layouts:theme') #6 /home/performa/public_h in /home/performa/public_html/wp-content/themes/yoo_nano3_wp/warp/systems/wordpress/layouts/single.php on line 27