Employee Performance Management – a Manufacturing sector perspective
The traditional level at which performance management concepts are used in organisations is the individual level. Individual performance management is the organisational level with the longest history, as it mirrors the evolution of organizational complexity . A recent Aberdeen Group Report, released in September 2010, provides more insight into the characteristics of the employee performance management practices in manufacturing organizations.
The study took in consideration the responses of 65  human resources and line of business professionals from the manufacturing sector and was based on the analysis of these organizations employees performance against three important Key Performance Indicators (KPIs):
% Employees that indicate that are engaged;
% Employees that exceeded performance goals or expectations according to last performance review;
% Year over year improvement in customer satisfaction.
Results
The results of the study suggest that when compared with their counterparts from other industry sectors, companies activating in the manufacturing sector are overall 15 % less likely to achieve Best-in-Class Status. (top 20% of aggregate performance scores)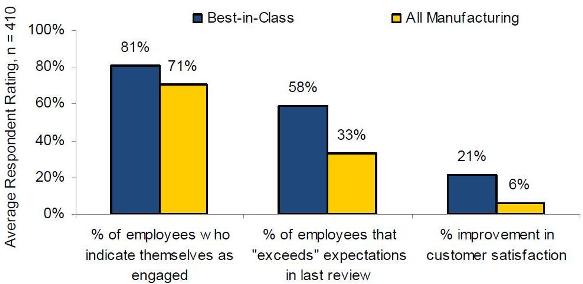 Source: Aberdeen Group, 2010
The most common challenges indicated by the survey respondents as hindering the employee performance management efforts were:
The lack of follow-up between managers and employees regarding progress against  goals and performance expectations – indicated by 59% of respondents;
Difficulty in communicating the organization's strategy – indicated by 40% of respondents; and
Too much reliance of manual processes – indicated by 35% of survey respondents.
Required actions for employee performance improvement
For reaching Best-in-Class Status, as defined by the Aberdeen Group (2010) analyses performance framework, several directions can be followed by manufacturing companies as outlined below:
Automate inefficient or manual processes – facilitating the process of performance management by making easier to record employee performance feedback, capture KPIs or organize and access this data;
Integrate employees goals with the business – by aligning the employees goals to the organizational strategic objectives;
Drive development and engagement through performance – by building a learning and innovative culture in the organization that fosters commitment to the company, talent development and retention of top performers.
Although the Aberdeen Group (2010) report results and suggestions are directed specifically towards the organizations activating in the manufacturing sector, they can be looked as valuable insights for all types of organizations activating in different industrial sectors. This is due to the fact that employee performance management or individual performance management is recognized as an important part of an integrated approach to how performance is addressed by organizations overall. For more details on Performance Management at different organizational levels please visit integratingPerformance.com.
Additionally a large number of Key Performance Indicator examples for the Human Resources Functional area are available in the KPI examples section of smartKPIs.com.
References
Image Source:
Additional resources
Tags: Human Resources performance, KPI, Manufacturing performance