Emerging economies influence on commodity prices – A correlation between wine and oil price trends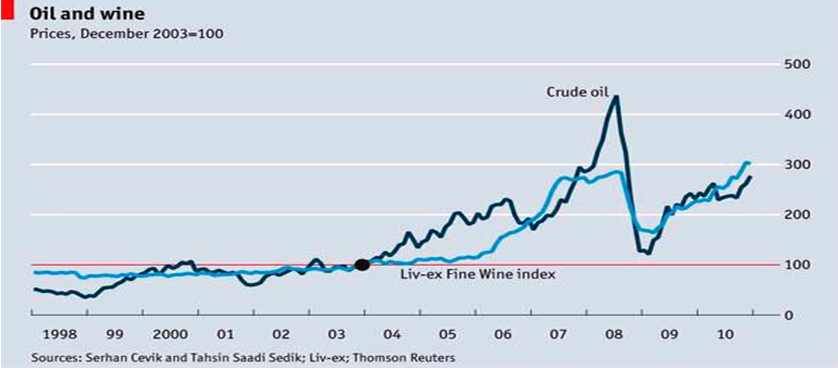 A recent article published in "The Economist" outlines an interesting correlation between the wine and oil prices trends around the world for the period 1998-2010. The research undertaken by two experts from International Monetary Fund (IMF), Servan Cevik and Tahsin Saasi, shows that supply has only a marginal impact on prices.
Usually, as it is acknowledged in the article, wine experts explain price movements analyzing supply side factors such as the effect of the weather and age. However, as the results of the study conclude, fast economic growth in the emerging markets has had a much bigger impact on wine prices, as well as it had on oil and other commodities in the last decade.
This is due to the fast growth of emerging economies such as that of China, India, Brazil or Russia, among others. Overall, emerging economies have accounted for more than 100% increase in global oil demand between 1998 -2010, while oil consumption in more developed countries has declined.
Likewise, the increased buying power in emerging markets "have spurred wine drinking", with China overtaking Great Britain as the biggest export market for red wine,  whereas consumption in Europe, especially in traditional wine drinking countries such as France and Italy has fallen.
Based on these economical trends, Cevik and Saasi, the two IFM economists,  built an economical model to explain swings in the price of oil and wine by analyzing the same variables or metrics:
# Production (for oil and wine)
% Growth rate (for rich and emerging economies)
$ Global excess liquidity
As the findings of the study shows between 1998 and 2010 there was a correlation of over 90% between changes in oil and wine prices.
For more insights on the best Key Performance Indicators for measuring Financial trends visit smartKPIs.com KPI example section.
References
Image Source
Tags: Food and Beverage performance, International Monetary Fund, Oil and Gas performance, Research, The Economist