Customer satisfaction: Reflecting Organisational Performance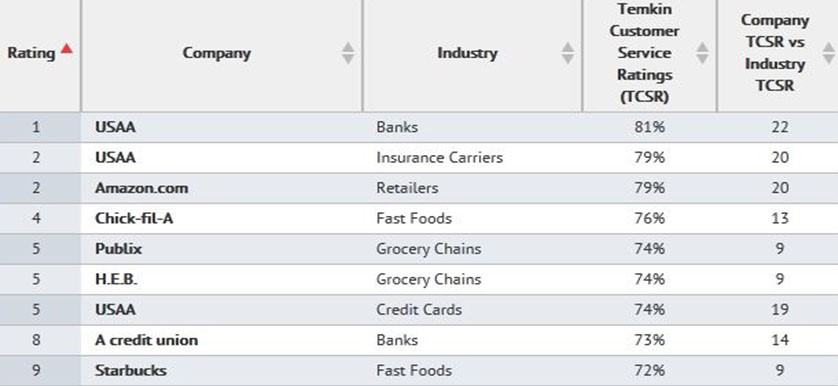 Organisational performance comprises a company's actual results, as measured against its intended goals. Highly effective  companies have a clear focus on leadership, design, people, change management, culture and engagement, so that organizational and individual capabilities contribute to the financial and operational performance, enabling strategy execution. Taking into consideration that almost every organization has profit as a strategic objective, customer satisfaction plays a major part in influencing revenues.
In a study regarding customer satisfaction within US companies, conducted by The Temkin Group,   in January 2014 on 10,000 US consumers, the USAA ranked  first, followed by Amazon and Chick-fit-A on 3. The first ranked is a bank that offers services to veterans and soldiers and was described as a customer centered organization
Andreas von der Heydt , Kindle Content Acquisition Director at Amazon, states his opinion about the USAA, in a recent post, saying: "When you join USAA, you're more than just a customer. You belong to one of the leading financial institutions in the country. And as a member, you'll enjoy exclusive discounts, superior support and it's free to join. We're dedicated to providing our members with top-rated service and personalized advice. Through any stage of life, we're here to guide you. We're revolutionizing how our members keep up with their finances. We're honored when we're recognized by the industry's top publications. But we're humbled by what our members say."
Satisfied employees get satisfied customers. In order to obtain this, in 2009, USAA has increased salaries with 5$ per hour and bonuses nearing 19%, up from 13.5% the year before. In 2009, when the company closed 2 call centers, it offered every employee a company-paid relocation package and jobs in other locations. As a result, 50% of 1,200 workers accepted the move offer, which was much higher than the 20% the company was expecting.
An excerpt from Temkin's report,  about the USAA reads "Member satisfaction trumps every single metric." Staffers get time to do their jobs, too. Employees aren't rushed through calls with customers or evaluated on how fast they handle the inquiries. In measuring customer satisfaction, USAA uses the % Net Promoter Score, which is over 75% and % Customer retention with a level of 97.8% in 2009.
So, with a focus on employee satisfaction which drives customer satisfaction, USAA managed to increase its net worth with 1.7 billion dollars in 2010, compared to 2009, when it was 17 billion dollars.
References:
Image source: