Community indicators for sustainable aging in place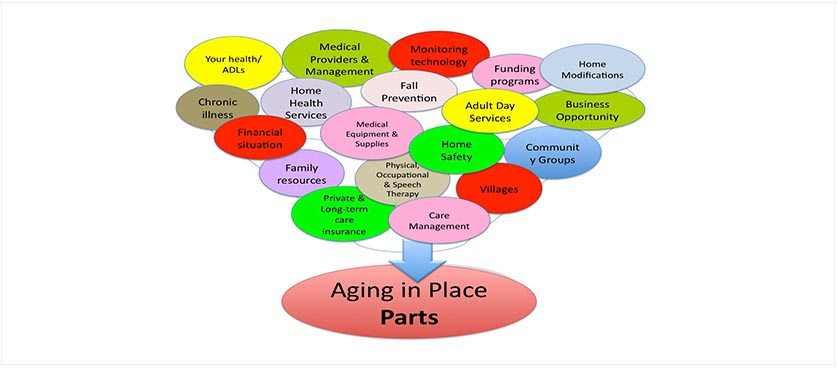 What does aging in place mean? It is the ability to remain in one's home or community, in spite of potential changes in health and functioning in later life. In a livable community, residents of all ages can maintain their independence and enjoy a high quality of life.
When people hear about this concept, they usually tend to overlook it, especially if they are young or in their prime. But they do not see the entire picture: it can bring benefits not only to the elders, but also to their families, communities and governments, as sustainable aging in place involves helping the older residents remain in their community, thus addressing the long-term economic, social and environmental health of the current and the future generations.
For older adults, the benefits come from the sense of attachment, familiarity and identity, as they cherish their homes and their neighborhood environment. Studies show that if a person is sent to a nursing home, the quality of life is reduced and the risk of mortality increased, leading to mental distress for their family. Moreover, aging in place is considerably less expensive than an institutional long-term care. Furthermore, the community as a whole can be improved, as older adults can make valuable contribution as neighbors, caregivers and volunteers.
The MetLife Mature Market Institute, in collaboration with the Stanford University Center on Longevity has developed a list of indicators that use information that is already available and adaptable to local governments. Therefore, the governments can examine the needs of their aging population, while maintaining the costs as low as possible. These indicators show how aging in place is influenced by certain community characteristics. These characteristics include a variety of social and physical features that could lead to more livable communities, ease sustainable aging in place for the elders and improve the quality of life for all residents. Communities should adapt these indicators to best suit their needs, while also pointing out what has to be changed.
A livable community:
offers accessible housing options so that the older adults can have a place to live;
promotes access to the community, including: safe neighborhoods, safe transportation options, emergency readiness;
provides support, services and opportunities to participate in the community life: health care, supportive services, general retail, healthy food and social integration.
According to MetLife Mature Market Institute and Stanford University Center on Longevity, specific criteria for the indicators include:
strength of research evidence;
strength of support by  aging in place experts;
ability to measure the indicator using existing data sources;
potential for multiple benefits;
degree of adaptability to different kinds of communities.
The indicator system developed by the above mentioned institutions represents a first step in understanding how aging in place can be influenced by the community and how both can benefit from one another.
References:
Image Source:
Tags: MetLife Mature Market Institute, Performance Measurement, Stanford University Center on Longevity