Performance Management Association Conference 2014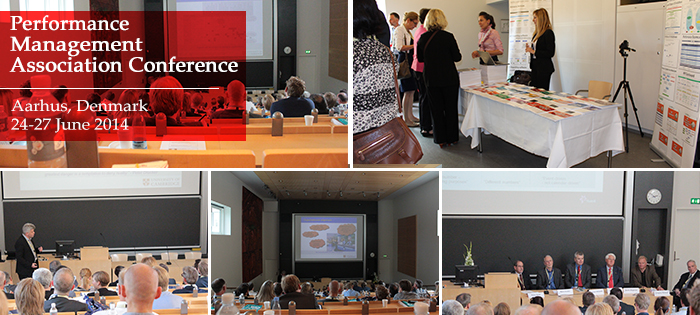 The 8th edition Performance Management Association Conference, the main global event that brings together the latest research and case studies in the field of performance management and measurement, was held in Aarhus, Denmark, between 25th and 27th of June.
The conference was organized by the Interdisciplinary Center for Organizational Architecture and Aarhus University. The KPI Institute was a Platinum Sponsor of the PMA Conference and was represented in Aarhus by a delegation, along with the company's CEO, Mr. Aurel Brudan.
The official opening of the PMA Conference took place on the 24th of June, where an informal Welcome Reception was hosted by Anne Nygaard, Deputy Mayor of Aarhus, at the Aarhus City Hall.
On June 25th, the first day of conference, Børge Obel, ICOA's Centre Director, Professors Rick Edgeman and Jacob Eskildsen, from Aarhus University were the hosts of the introductory, welcome sessions. Each of the three days offered participants both keynote presentations and parallel sections, which covered a broad range of performance related topics, from performance measurement to sustainability, from data visualization to cultural issues and case studies.
The keynote presentations of the first day were held by Harry Hertz, Director Emeritus of the National Institute of Standards and Technology, Charles Aubrey, Vice President Emeritus of Performance Excellence, Gregory Watson, Chairman at Business Excellence Solutions, Finland, Joseph Williams, Seattle Pacific University, Andy Neely, Chair PMA, Director of the Cambridge Service Alliance and Bjarte Bogsnes, Vice President Performance Management Development at Statoil. A Panel Discussion highlighted the main topics of the day and reunited the above mentioned professionals.
The second day started with a keynote presentation on sustainability, held by Mark Finster, Wisconsin School of Business. Participants could also choose from three parallel tracks of presentations, on topics such as data visualization, strategic planning, employee satisfaction and setting targets.
For the last day, Professor Andy Neely held a keynote presentation on Big Data, followed by other parallel sessions on performance management and measurement systems implemented in different sectors, such as hospitality and higher education.
The wide group of presenters, mainly academics in the field, but also from both business and public sector communities delivered the newest knowledge within performance management and created the opportunity for the exchange of experiences and ideas across sectors and regions.