Managing and measuring human capital performance with KPIs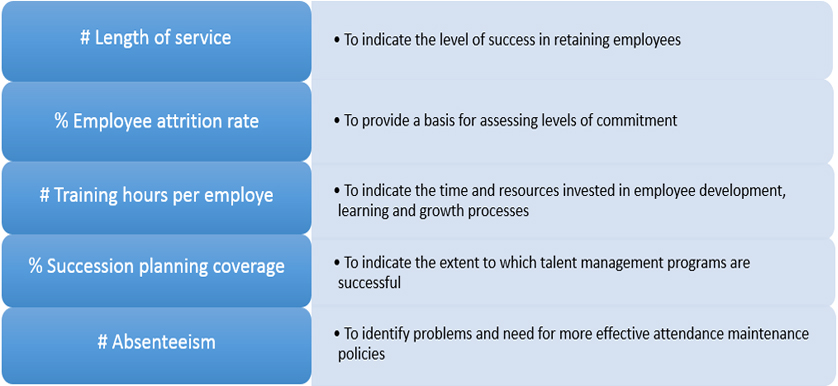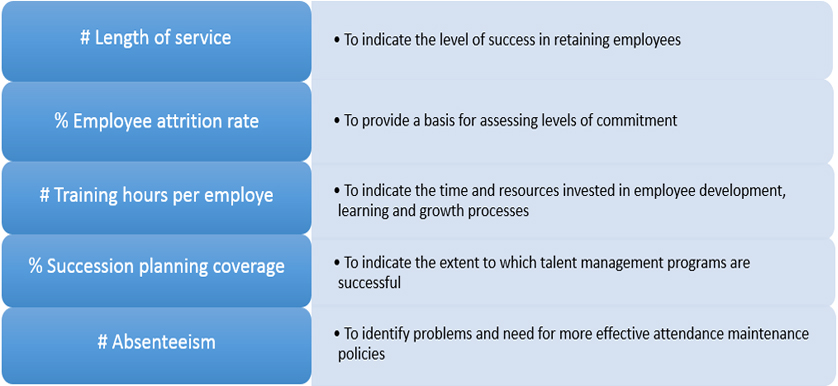 In today's challenging business environment, it is a prerequisite to achieve a human capital advantage in order to ensure business success. This has led to an interest in the development of tools to measure the value and impact of human capital. Some of the human capital Key Performance Indicators (KPIs) and their possible uses are listed in the graphic above.
KPIs can be used to measure and monitor progress in achieving strategic HR goals and to evaluate the effectiveness of HR practices.
The factors that can affect the choice of what should be reported through KPIs are:
The type of organization, as indicators are context dependent;
The organization's business drivers, for example the factors that directly contribute to the achievement of business strategic goals (i.e. control of costs, innovation, customer service etc.);
The availability of data;
The manageability of data: there may be a wide choice of KPIs and it is important to be selective so that the burden of collecting, analyzing and reporting the data would become easier to handle.
Attention must be paid when managers decide to link employee pay to meeting established KPIs targets, as practice has showed that in many cases they will try to meet those targets at the cost of negatively influencing other aspects.

For instance, an employee from the recruitment department, in order to meet the targets for #Time-to-fill a vacant position, might focus on occupying a position with a person who may not be right one, as long as it is done fast. These negative behaviors that may occur need to be kept in mind when selecting KPIs and establishing targets.

Nonetheless, using KPIs to measure, collect and analyze the information related to them will focus the attention of the company on what needs to be adjusted, to keep and make the best use of its human capital.

References:

Tags: Human Resources performance, KPI, Performance Measurement


Fatal error: Uncaught Error: Call to undefined function wp_related_posts() in /home/performa/public_html/wp-content/themes/yoo_nano3_wp/warp/systems/wordpress/layouts/single.php:27 Stack trace: #0 /home/performa/public_html/wp-content/themes/yoo_nano3_wp/warp/src/Warp/Helper/TemplateHelper.php(49): include() #1 /home/performa/public_html/wp-content/themes/yoo_nano3_wp/warp/systems/wordpress/layouts/content.php(50): Warp\Helper\TemplateHelper->render('layouts:single') #2 /home/performa/public_html/wp-content/themes/yoo_nano3_wp/warp/src/Warp/Helper/TemplateHelper.php(49): include('/home/performa/...') #3 /home/performa/public_html/wp-content/themes/yoo_nano3_wp/layouts/theme.php(631): Warp\Helper\TemplateHelper->render('layouts:content') #4 /home/performa/public_html/wp-content/themes/yoo_nano3_wp/warp/src/Warp/Helper/TemplateHelper.php(49): include('/home/performa/...') #5 /home/performa/public_html/wp-content/themes/yoo_nano3_wp/index.php(13): Warp\Helper\TemplateHelper->render('layouts:theme') #6 /home/performa/public_h in /home/performa/public_html/wp-content/themes/yoo_nano3_wp/warp/systems/wordpress/layouts/single.php on line 27