The value of pre-built Performance Dashboard solutions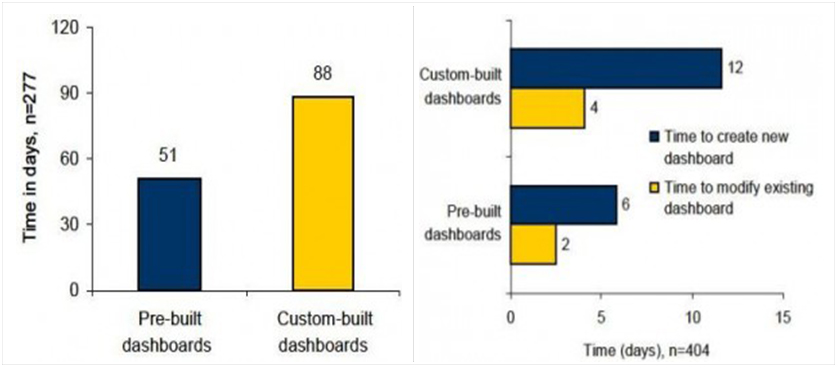 A recent Aberdeen Report, released in October 2010, looks into the strategies and tactics used by companies in order to forge stronger linkages between execution and corporate strategy using performance dashboards.
A particular part of the research investigates the overall performance and capabilities of organizations that are using pre-built dashboard solutions by comparing them with organizations that chose to build their own custom dashboards, either using a development kit or build it from the ground.
A pre-built dashboard solution is defined for the purpose of the research as 'dashboards that are purchased with specific industry or line of business Key Performance Indicators (KPIs) already built-in'. Examples of such pre-built solutions can include performance dashboards from a wide range of functional areas and industries such as Human Resources, Retail or Real Estate Development.
Pre-built dashboard solutions as described in the report can be implemented in many ways, including traditional on premise deployment or using Software as a Service (SaaS) approach.
Key report findings
One of the main findings of the study is that pre-built dashboard solutions are much faster to be deployed within organizations than other custom made solutions. In average an organization that uses a pre-built dashboard solution was able to deploy their first dashboard project in 51 days, 60% of the time required by organizations that were using custom dashboard solutions, which needed 88 days in average for implementation, as shown in the graph below.
A key benefit of pre-built dashboards is that they enable rapid deployment through modification. As the Aberdeen Report (2010) shows, the time needed to modify a dashboard pre-built solutions is in average only half from the time needed to bring changes to a custom developed dashboard solution.
Another advantage of pre-built dashboard solutions is that they allow customization and tailoring according with the organizational own needs. The research results show that companies using pre-built dashboard solutions are 45% more likely to have dashboards that can be tailored within the organization cutting time and saving money for the business.
Despite the fact that many would thing that organizations choosing to implement pre-built dashboard solutions don't have the necessary business intelligence to implement such solutions by their own, and thus prefer a hands off approach, the Aberdeen Group (2010) report presents a totally different situations. According with the study, organizations that pursue pre-built dashboard solutions 'are twice as likely as other organizations to possess a Business Intelligence Competency Center (40% to 19%)'
Additionally, as the report shows, these organizations have a clearer understanding of the organizational performance culture both in terms of aligning Key Performance Indicators used at the operational level with the strategic objectives from the corporate level, and understanding of the strategy execution process overall.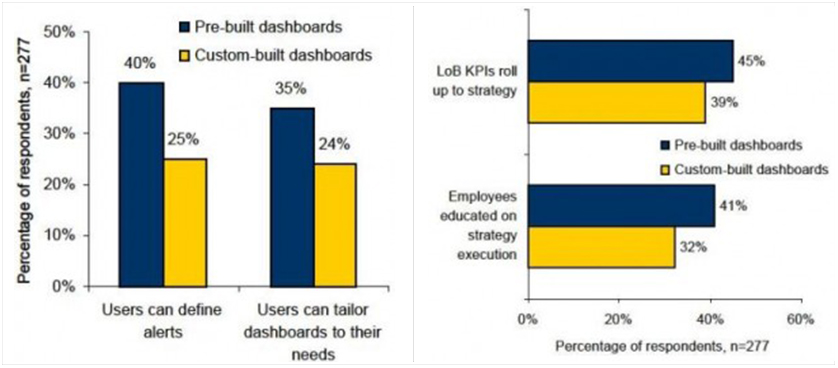 Source: Aberdeen Group, 2010
Key benefits of pre-built performance dashboard solutions
Pre-built dashboards enable a faster deployment process;
Are easily adaptable to rapid change and modification;
Are more likely to be customized from inside the company through configuration, not coding;
Pre-built dashboard solutions are often coming with "out-of-the-box" functionality, such as relevant Key Performance Indicators, pre-built reports and visualization solutions.
Key recommendations
Despite the fact that pre-built dashboard solutions are fast to implement, adaptable to change and easily to customize a certain amount of effort needs to be allocated in order to integrate them with other enterprise systems as well as configure them to the organization specific needs. Some of the things that need to be taking into account are:
As pre-built solutions are likely to include a broader range of Key Performance Indicators and reports that the business actually needs, they need to be mapped and configured to best serve the functionality required by the business;
The implementation of pre-built dashboard solution might require defining new Key Performance Indicators and creating new reports or modifying existing ones in order to best translate organization's strategic direction;
Security controls and privileges must be set in place and data custodians must be named for each KPI.
References
Image Source:
Aberdeen Group, 2010