Robot restaurants in technologically advanced countries like Japan and USA are considered solutions to labor shortages and growing customer demand as on-premise dining starts to pick up. Yelp Economic Average reports that searches for reservations increased by 107% in the first quarter of 2022 compared to the same period in 2021.
Digitalization has become the key to service improvements in restaurants, and one of these advancements is robotics. Different processes can be automated by using robots. While such automation can impact the performance of a restaurant, applying robotics also comes with challenges.
Improvements 
Approximately 82% of restaurant jobs could be replaced by robots in the future, according to a report published by Aaron Allen & Associates. Robots are used to help humans in the kitchen perform repetitive tasks, such as slicing or mixing ingredients. Robots can also:
welcome guests

take and deliver orders

manage payments
According to articles from ResearchGate, the Turkish Business Journal, and Elsevier, robotics decreases the efforts of individual waiters, reduces investments in human labor, simplifies food orders, supports restaurant services, decreases human-induced service failures, reduces work hours, and improves service quality.
Hospitality & Catering News states that an average human server can serve 200 meals daily, while a robot server can serve 300-400 meals. If waiters serve more tables in the same period, they can serve the dishes faster, contributing to an increase in the restaurant's overall productivity.
Recent research on digital responses to COVID-19 highlights that if the waiting times per table increase, the time spent at a table increases. This means that the table will be occupied for a long time, negatively affecting customer satisfaction and total revenues for the restaurant since they have a limited number of tables. The waiting time per table can be decreased by implementing electronic menus so that the cooks do not have to read the order notes from waiters. This is a process that slows them down and increases the risk of mixing up orders.
 An IEEE article explains how robots and electronic menus cut down on wait times per table. When a customer orders something using an electronic menu, the order and the table number appear on the cook's screen. When the chef has finished cooking, the order is transferred to the robot, which will have the table number of that specific order so it can deliver it to the customer. Digital tools help visualize orders and provide systematic overviews. 
As stated in a 2020 Atlantis Press article, digital tools simplify the process of choosing the desired dishes. These digital platforms also enable keeping statistics of ordered dishes so that the restaurant can determine what foods are most popular and when (during particular times of the day or seasons), as well as which foods to leave off their menu. Additionally, by offering discounts in their ordering application, restaurants will increase customer loyalty.
Challenges
There are two types of challenges that emerge from using robots in restaurants. The first kind results from the complexity and technical limitations of the machine (see Figure 1):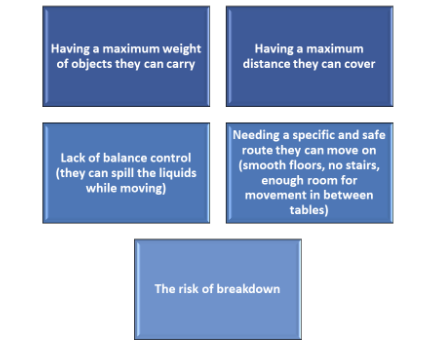 Figure 1. Adapted from: A Car-bot Waiter for Providing Services of Restaurants to Limit Human in Pandemics like COVID-19 | Issues in Existing Robotic Service in Restaurants and Hotels | Wireless Waiter Robot | Service Robots in Catering Applications: A Review and Future Challenges
Consumer acceptance is another challenge for digitalizing restaurant services. Studies have revealed that some people feel uncomfortable interacting with a robot. Before bringing autonomous robots into restaurants, owners should assess socioeconomic implications, such as the balance between operational efficiency and customer expectations and robot costs. 
Process automation will increase productivity in the restaurant industry, but this will also make it difficult for restaurant workers to find new employment. 
Digitalization of the restaurant business is inevitable. Initially, the new system may cause chaos because every restaurant owner will be eager to implement such technologies. This enthusiasm can result in impulsive investments to keep up with the competition, leading to unnecessary risks and, ultimately, no added value for that business. But, if safely adopted, robotics may improve performance, increase productivity, and decrease overall costs. Even though the goal may be to digitalize the whole restaurant, these robots will only partially operate by themselves so soon.