Performance reporting at Adecco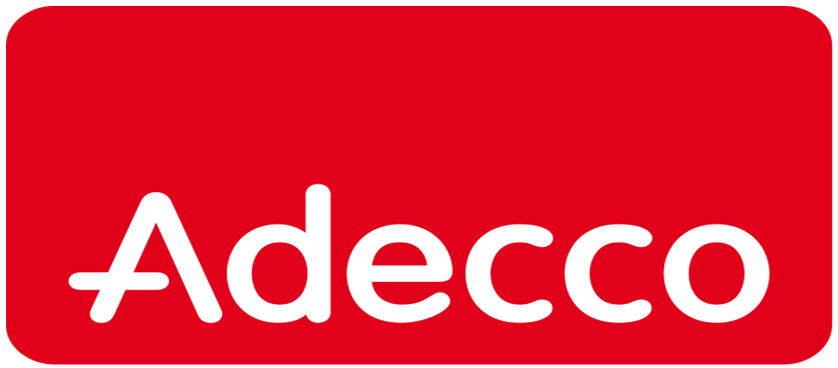 The Adecco Group the largest provider of Human Resources (HR) solutions in the world. As one of the world's leading providers of HR solutions, Adecco operates in over 60 countries and territories, they offer all types of HR services to over 100,000 clients and every day around 32,000 Adecco employees worldwide work with close to 700,000 associates on assignment at client locations.
In March this year, Adecco released the Annual Report 2012, providing insight in the company's performance management approach.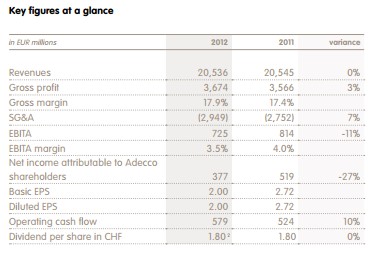 To measure strategy effectiveness from a financial perspective, Adecco closely monitors the following KPIs:
•          Revenue growth
•          Gross profit growth and development
•          Selling, general and administrative (SG&A) expenses development
•          EBITA growth and EBITA margin development
•          Conversion ratio (EBITA as a percentage of gross profit)
•          Days sales outstanding (DSO)
•          Economic Value Added (EVA)
The strategy of the Adecco Group is to be alongside each phase in the life cycle of their associates and clients. In order to achieve this, they also measure non-financial goals. Employee retention is a strategic priority of management. Adecco reviews the retention rate quarterly and uses the Great Place to Work® survey to improve their attractiveness as an employer. Furthermore, they conduct the Global Satisfaction Survey among clients, associates and employees on a regular basis. It provides feedback on brand promise, brand voice, processes and KPIs, and allows Adecco to constantly improve. Their belief is that by increasing client, associate and employee satisfaction Adecco enhances the creation of value.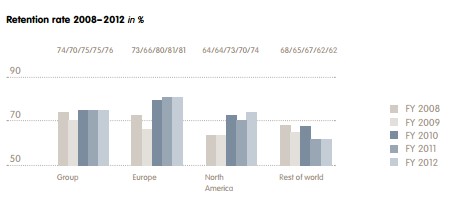 According to their annual report, 2012 was another year of progress for the Adecco Group. Despite the decline in revenues of 4% organically to EUR 20.5 billion, Adecco remained the HR industry leader and managed to maintain leading profitability.
Through implementing performance management techniques and measuring instruments, Adecco has established a sustainable and company-wide performance framework. Following this approach the Adecco Group is on the right path to reaching their mission of providing superior services to clients, job seekers and associates through best-in-class matching of talent with the current business needs of their clients' positions.
References:
Image Source: