Adapting the Balanced Scorecard for an Academic Hospitalist Group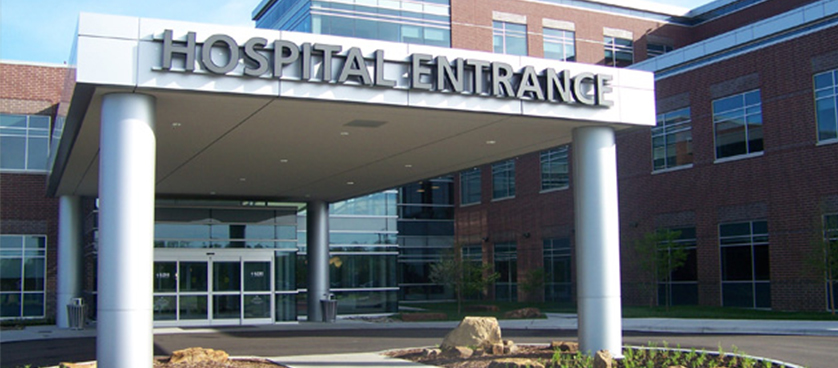 The rapid expansion of the healthcare industry has led to important developments in the domain. One of the fastest growing specialties in the field has been hospital medicine, born out of the requirement to improve efficiency and quality of clinical care in hospitals. The success and growth of this particular field is based on its primary focus: delivering safe and high value clinical care.
The growing demands on academic hospitalists were augmented by the fact that number of hours worked by the housestaff have been recently restricted and as a result the hospitalists are required to staff those services. Academic hospitalist groups (AHGs) now also assumed to make important contributions in quality improvement, patient safety, education, research and administration.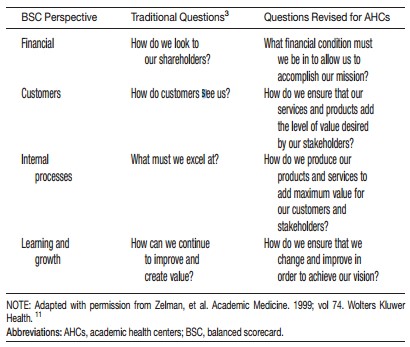 Given these recent strains that have arisen, Academic hospitalist groups (AHGs) are faced with challenges that are unique to the hospital medicine field. They are required to implement strategies that need to balance personnel, resources and of course performance, in order to be successful.
One such AHG, the Division of Hospital Medicine (DHM) of the University of California San Francisco (UCSF), has recently adopted a Balanced Scorecard (BSC) approach toward establishing objectives based on a balanced strategy. Given the fact that the BSC implementation project in an AHG has had no predecessor, the team from the DHM has based its work on W. N. Zelman's considerations regarding the modifications of the 4 BSC perspectives that suggest adapting the perspectives to better fit their unique considerations.
After conducting a needs assessment process during a division retreat in 2009, areas in need of improvement were identified. Based on these needs the mission and vision statements of the division were created. They were the cornerstone of the goals and objectives that were to be chosen within each of the 4 BSC perspectives for academic centers, as defined by Zelman.
The next step taken by the team responsible for implementing the BSC was selecting the right metrics that would track and monitor the division's performance in reaching their objectives. The process of selecting the initial metrics was guided by the following criteria:
Important to the division and to the individual faculty members
Measurable through either current or developed processes
Data are valid and their validity trusted by the faculty members
Amenable to improvement by faculty (i.e., through their individual action they could impact the metric)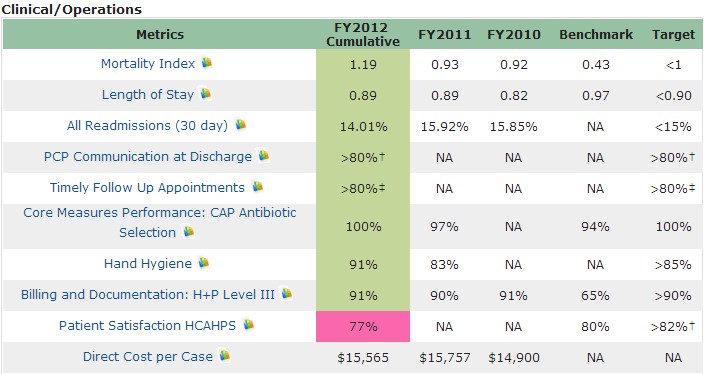 The division's BSC team initially considered 41 metrics. From these, 16 metrics were chosen for the initial BSC through a modified Delphi method. Over the last 2 years, the division has modified these initial metrics to reflect current strategic goals and objectives.

The BSC of the Division of Hospital Medicine is currently updated quarterly, and results are presented to the division during meetings and also posted on the division website. The selected metrics are re-evaluated each year. They are retained, adjusted, or discarded depending on performance and/or changes in strategic priorities.

References:

Image Source: