PMA 2012 Conference: From Strategy to Delivery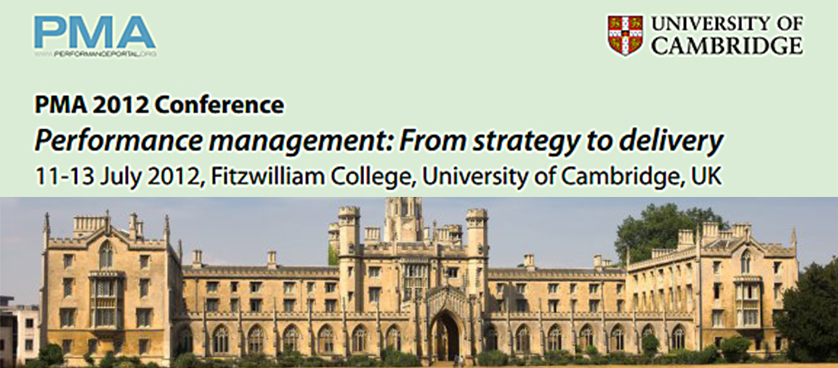 The PMA 2012 Conference has begun today. The event is taking place in Cambridge, UK, on 11-13 July at Fitzwilliam College, University of Cambridge.The theme for PMA2012 is Performance Management: From Strategy to Delivery. Exploring the latest thinking and research into how to connect strategy to delivery, through technology, systems and process, the conference is a mixture of keynote and plenary presentations, as well as parallel streams and discussion groups. Delegates and presenters are expected from a range of academic disciplines, as well as the business and public sector communities.
The aim of the PMA conference is to bring together those who want to explore and better understand the role that performance measurement and management plays in improving organizational performance. No other conference better facilitates dialogue in the field of performance measurement, providing such a rare opportunity for academics and practitioners to meet and exchange ideas. Three world-class keynotes will present at the conference; Howard Dresner, a widely regarded expert in business intelligence and Professor Gerhard Satzger, IBM's Director Business Performance Services, Europe, and Professor Christopher Hood, University of Oxford.
Attendees come from all over the globe and have diverse backgrounds and perspectives, which makes the event particularly fascinating given the diversity of views held and shared by participants.
The conference is organised on behalf of the Performance Management Association (PMA) by the University of Cambridge. The conference chair is Professor Andy Neely from the University of Cambridge, and the co-chair is Professor Mike Bourne from Cranfield School of Management, UK.
The complete programme for the next days is available here